"Visions in Motion" in Berlin
Patrick Shearn & Poetic Kinetics
To mark the
30th anniversary of the Peaceful Revolution and the fall of the Wall
,
Kulturprojekte Berlin
has invited Patrick Shearn and his team at Poetic Kinetics to display "Visions in Motion", the latest work from the artist's "Skynet" series. Curated as part of Berlin's official week-long festival, the 20,000 sq. ft. kinetic installation spanned 450 ft. in length at the Brandenburg Gate, where the former Wall divided the city. The artwork's rectangular shape conjures the form of the wall; but instead of a heavy, impenetrable border, the form takes flight.
Kulturprojekte Berlin was inspired to invite artist Patrick Shearn from Berlin's sister city, Los Angeles, to bring forth an artwork for the official festivities that symbolizes the unification of the German people. During the Peaceful Revolution, hundreds of thousands of people raised their voices and contributed to the fall of the Wall. In reminiscence of the banners carried during the demonstrations of the Peaceful Revolution, Shearn's installation incorporated multicolored, partly reflective streamers, which floated almost weightlessly across the sky at the Brandenburg Gate in Berlin.
Patrick Shearn is world renowned for his striking, larger-than-life, moving sculptures, called Skynets. The commissioned work continues the dynamic installation series of ultra lightweight floating artworks, rigged inconspicuously to appear as if they float in midair. The artwork was comprised of approximately 120,000 streamers of fabric— 30,000 of which contain handwritten messages collected from members of the German people and the world community.
In total, the installation was comprised of approximately 9500 linear ft. of rope, over 1250 hand-tied technical knots and approximately 120,000 ripstop nylon and reflective fabric streamers arranged in an elegant, colorful pattern. Harnessing available wind, the artwork will undulate in a gorgeous, immersive display.
The Berlin Festival Week from November 4 – 10 marked the 30th anniversary of the Peaceful Revolution and the fall of the Berlin Wall: the capital city was transformed into a large open-air exhibition and event location. Over one hundred events at seven original sites of the Peaceful Revolution, visitors were invited to learn, remember, debate and celebrate.
Project data and companies involved
Address
Straße des 17. Juni/Pariser Platz
D – 10117 Berlin
At "More Sports. More Architecture." you will find functional, spectacular and simply beautiful buildings and facilities for sports and leisure.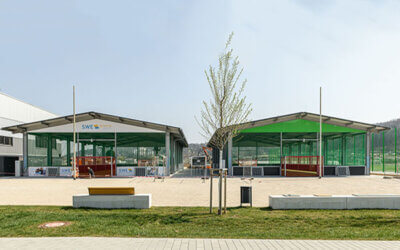 Open-air halls have a bright future.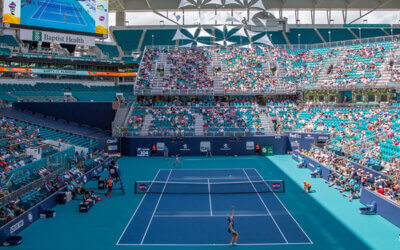 Sand courts are high-maintenance. But there are alternatives.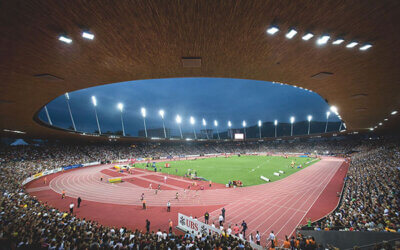 All about athletics running tracks