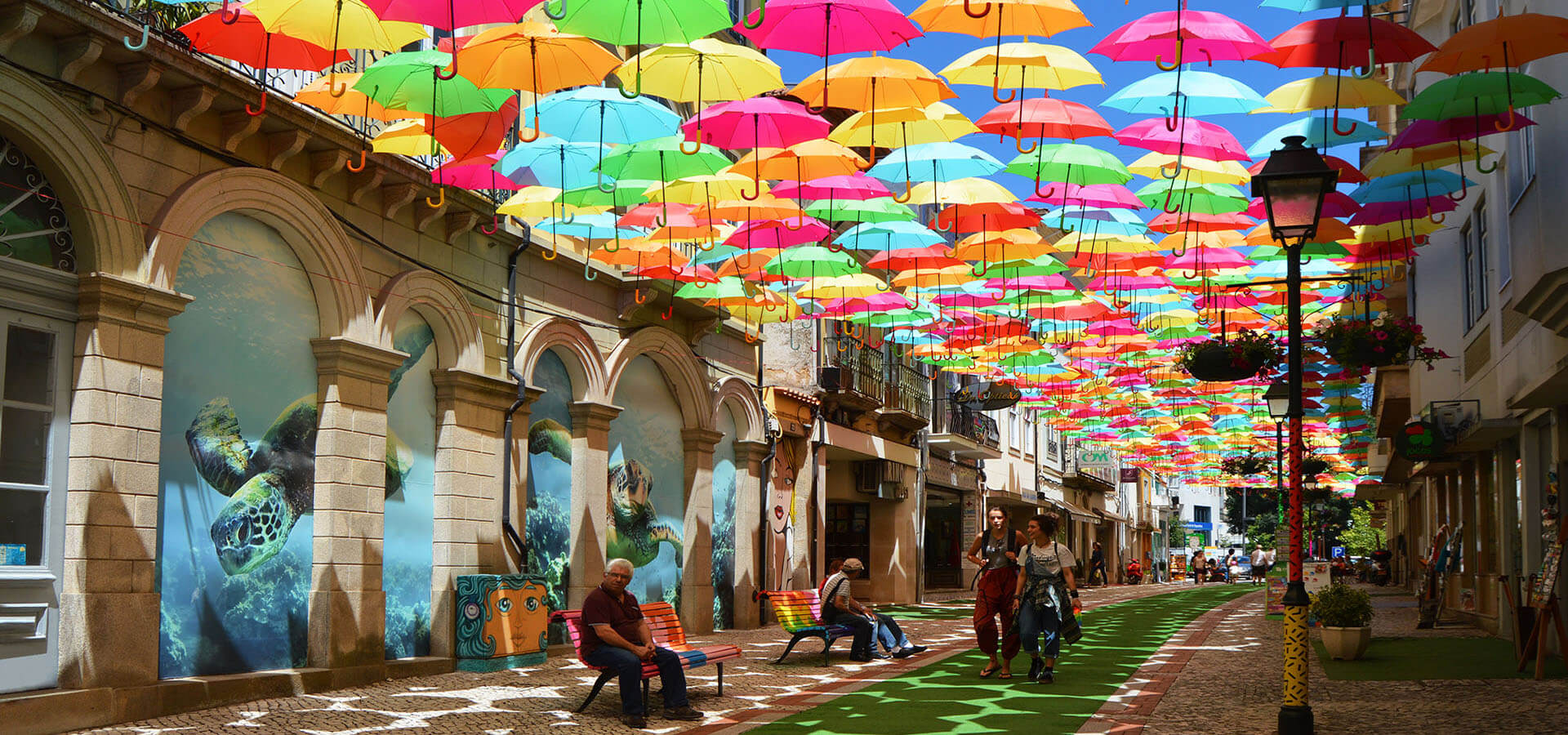 Umbrella Sky Project in Águeda
Mary Poppins
Inspired by the magical Mary Poppins, a young nanny descending from the sky using her umbrella, the Umbrella Sky Project first appeared in 2011 as a part of the famous annual Ágitagueda Art Festival in the Portuguese city of Águeda. Every summer, Sextafeira designs a handful of the city's narrow streets with colorful umbrella canopies that provide shade for the pedestrians passing through. Rooftop cables are strung with numerous parasols that help cool the roadways in a creative and cost-effective way, and the sea of umbrellas forms a unique geometric pattern overhead as well as changing shadows on the roadway below.
Guerrilla marketing
This Umbrella Sky Project consists of colorful artistic installations scattered throughout Águeda. The sky of floating umbrellas is the really strong element of the project and made it recognized worldwide.
Sextafeira emerged in 2004 "with the will to assume a unique position in today's society saturated with communication. We use guerrilla marketing to reach the hearts and minds of our clients target audience. Our main tactics are the use of unusual means and actions under the slogan "no flyers, no banners, no muppies".
Every year, a different theme is chosen to inspire all the installations and decorations in Águeda.
A shower of colour
The designer's aim is to color life, to bring color to the gray spaces of the city – and to bring smiles to tourists and inhabitants passing by. A simple idea that brings life and protection to public spaces – and an enormous recognition value to the city of Águeda.
The sea of umbrellas brings a shower of colour over the town's narrow lanes. While they appear to be floating magically in mid-air, the umbrellas are actually held up by string. The bright idea not only attracts attention but also beautifies everyday life, primarily through the use of colour.
Summertime cult(ure)
Since the start, the Umbrella Sky Project has become an annual summertime installation which developed a cult following around the world. Designers Sextafeira also launched offshoots in other cities such as Lisbon, where they have added to the streetscape by stringing multicolored balloons over urban alleyways.
The invasion of the floating sea of all the colours of the rainbow promotes trade, commerce, and the region itself without spending too much money, designers say. And they are right.
<iframe width="560" height="315" src="https://www.youtube.com/embed/8rzYZLVwiCs?rel=0&controls=0&showinfo=0" frameborder="0" allow="autoplay; encrypted-media" allowfullscreen></iframe>
<iframe width="560" height="315" src="https://www.youtube.com/embed/9hQvFEzv1W0?rel=0&controls=0&showinfo=0" frameborder="0" allow="autoplay; encrypted-media" allowfullscreen></iframe>
<iframe width="560" height="315" src="https://www.youtube.com/embed/H-N_wUQoiP8?rel=0&controls=0&showinfo=0" frameborder="0" allow="autoplay; encrypted-media" allowfullscreen></iframe>
<iframe width="560" height="315" src="https://www.youtube.com/embed/5Jrz5LZGcyA?rel=0&controls=0&showinfo=0" frameborder="0" allow="autoplay; encrypted-media" allowfullscreen></iframe>
<iframe width="560" height="315" src="https://www.youtube.com/embed/tlH0hQG5wDw?rel=0&controls=0&showinfo=0" frameborder="0" allow="autoplay; encrypted-media" allowfullscreen></iframe>
<iframe width="560" height="315" src="https://www.youtube.com/embed/-02AbqLxNO4?rel=0&controls=0&showinfo=0" frameborder="0" allow="autoplay; encrypted-media" allowfullscreen></iframe>