You look wonderful tonight
Marjan Hessamfar & Joe Vérons
The Alice Milliat Gymnasium is a former covered market in a vast complex built in 1962 turned into a sports facility with two adjacent shops. Bordeaux City Council wanted to offer the neighbourhood a new high-quality sports facility and shops, while enlivening the existing façades of the building. Alice Milliat Gymnasium comprises a market, a sports centre and a car park on Cours Victor Hugo.
Although the complex had become a symbol of the city's contemporary architectural heritage, it suffered from a lack of visual clarity a lack of connection between indoor and outdoor.
The proposal put forward by Marjan Hessamfar & Joe Vérons had three main goals:
to bring more natural light into the heart of the building
to make the sports facility more visible, while remaining sympathetic to the original architectural design
to reclaim the public space in front of the building.
In the gap created by the demolition of the existing market and shops, the architects installed a glass box. The fragility of this entirely glazed structure sets a contrast to the existing concrete architecture and highlights its beauty.
The attention paid to the design of the glass box, in particular the use of ultra-clear glass and refined materials such as brass and wood, gives the gymnasium a touch of sophistication.
A multi-purpose sports hall, a dojo, and a dance and fitness studio occupy the entire ground floor. Special attention has been paid to the lighting, transparency and spaciousness of the sports areas.
The spacious double-height sports hall next to the reception area occupies a central position at the heart of the building. It opens towards the reception area and receives abundant natural light thanks to the mesh façades and the windows in the upper section of the lateral dividing walls, which are sound-proofed and thermally insulated.
On either side of the multi-purpose hall, the dojo and the dance and fitness studio have the same volume and the same thermal and sound insulation systems. Their façades overlooking the street bring in abundant natural light. To ensure as much sports space as possible, the changing rooms are organised in the basement.
The choice of the colour blue forms an ideal background for signage that reflects the identity of the facility. Directional signs inspired by a sports track clearly show the layout of sports areas and changing rooms. The stairs and brass design provide a sense of continuity with the rest of the building.
The façade forms part and parcel of the redesigned pedestrian experience in this protected area of Bordeaux. The main façade features shops intended to re-energise the street. The sports hall entrance and its sliding glass doors in the centre of the façade on Cours Victor Hugo provides a strong sense of continuity.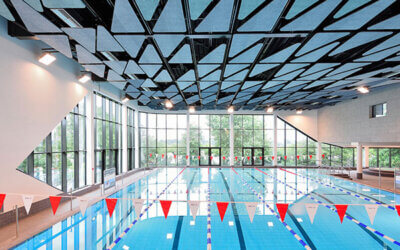 Indoor swimming pool and district administration under one roof.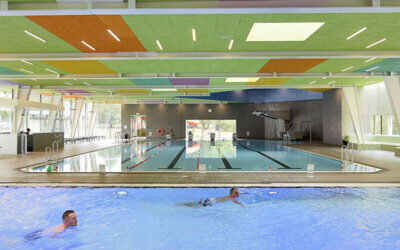 It is all about architecture, financing, digitalisation and users' behaviour.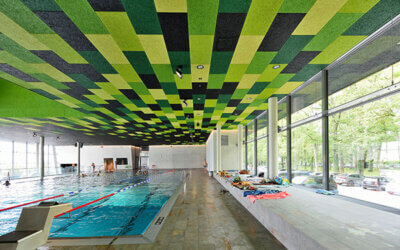 Minimalist charm, maximum relaxation.