More Sports

Media

PR Services

BLOG
"More Sports. More Architecture."
Posts, Advertorials, Commercials
Banner

Online
Webdesign
Page optimisation
Site maintenance
Data protection regulations (EU-DSGVO)

Print
Magazines
Books
Documentaries
Posters
Brochures & postcards

Social Media
Selection of suitable platforms
Content production
Monitoring
Maintenance
About us
If you do not have time to look after your publications, press releases or documentation, please give us a try. We know the industry – we have many years of experience.
Text, layout, graphics: One-stop shopping with More Sports Media – from the initial idea to the finished publication. We write, edit or translate your texts, photograph your projects, edit your pictures and plans or build your new homepage.
And More Sports Media ensures that the world knows about it: whether it be print or online, professional journal, portal or newsletter – we have know-how, experience and contacts to new and old media.
This is what we can do for you
PR Services
All kinds of services
Selection of suitable blogs, portals, journals and magazines
EDITORIAL SERVICES
Style and text length to match the platform and target audience
Translations
From initial idea to realized publication
LAYOUT + GRAPHICS
All formats and sizes
One-stop shopping
From initial design to detail
Events
Selection of trade fairs, congresses and other events
From invitation to documentation
Johannes Bühlbecker, founder
Johannes Bühlbecker is an architect and has worked, among others, for International Association for Sports and Leisure Facilities (IAKS) for 15 years – as editorial director of the renowned trade magazine "sb", in the organisation and realisation of international architectural competitions with IOC and IPC, in trade fairs and conventions, as head of the "NRW Beratungsstelle Sportstätten" ("NRW Advice Centre for Sports Facilities") and as a lecturer at the German Sport University Cologne.
Dipl.-Ing. (engineering degree) Architect, TU Berlin
Longtime editorial head with "sb", an international journal for the architecture of sports
Training in web design, online marketing, etc.
International architectural competitions with IOC and IPC
Trade fair and congress organisation
Head of the "NRW Beratungsstelle Sportstätten" ("NRW Advice Centre for Sports Venues")
Lecturer at the German Sport University Cologne
Planning of the Prussian Stadium in Münster (for großmann engineers, Göttingen)
Replanning a football stadium in Berlin-Köpenick
Numerous publications, i.a. "From Round Leather to Soap Bubbles – The Development of Football and its Architecture"
Board member and youth coach at SV BW Weitmar 09
"Thanks for sharing, looks great!"
"Congratulations – very interesting input!"
"I've been following your site and you are doing a really good job in gathering all these projects."
"I would be pleased if further fields of cooperation would emerge in the future. 'More Sports. More Architecture' is an inspiring platform with many good examples, suggestions and ideas."
"I have just received your wonderful pages with my work. I like a lot. Thank you for your interest on my work and your generosity."
"Collaborating with 'More Sports. More Architecture' has been fantastic opportunity for us. It's considerably increased our reach in Europe."
"With 'More Sports. More Architecture', a platform has been created that reports in a refreshing way on innovations in sports facility construction. A great project and a pleasant collaboration."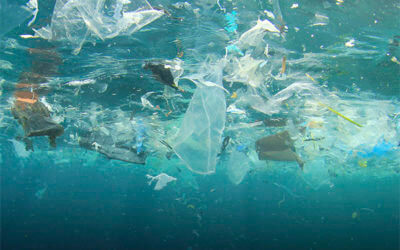 The use of our artificial turf pitches carries the risk of microplastics and plastic particles entering the water cycle. The solution is simple.
Spain, Costa Daurada, vacation: The Hotel Olympus Palace in Salou offers a huge roof terrace – with a very communicative pool.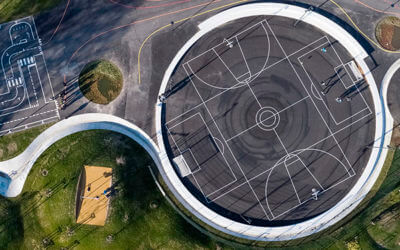 A wonderful combination of climate-friendly construction and attractive leisure activities. Protects against flooding.