Surfaces in water landscapes
Safety plays a major role in the design of the surfacing around water surfaces in both outdoor and indoor areas. It must be designed so that bathers always have a safe footing.
Slips and falls must be avoided at all costs as even a small, careless movement can lead to a fall with serious consequences, especially since bathers, whether children, adults or senior citizens only wear swimwear and are therefore also unprotected by any clothing if they fall. Floors bordering on water surfaces are therefore primarily designed for safety reasons.
Conica offers a safe solution for floorings adjacent to water surfaces.
The surface system Coniplay was developed by the Swiss company Conica AG. Its safe standing ensures that bathing fun in adventure and leisure pools, spas and private swimming pools is not spoilt by accidents.
The product is available in two versions: as the water-permeable version Coniplay AP and as the water-impermeable Coniplay AI. Both solutions are colourful, comfortable and offer a long service life. They can easily be installed without joints using different binding agents.
CONIPLAY AP is a water-permeable surface that can be constructed in one or two layers. CONIPLAY AI has a multi-layer structure and is waterproof.
The black granulate layer is optional for both variants, it serves to achieve any desired fall protection. This is what makes them recommendable.
The sealant is also the same for both: CONIPUR 2210, as an anti-slip, silk-gloss 2-component PUR sealant. Alternatively, CONIPUR 2210 AB can also be used. This sealant is additionally equipped with a bacteria-inhibiting additive.
CONIPLAY AP and CONIPLAY AI are resistant to both chlorine and salt water.
Today's bathing landscapes are subject to tough competition. Safety and attractiveness must no longer be competitors, they have to be partners.
The Coniplay solution combines the necessary, the fall protection, with the aesthetic. The material used allows a colourful design, so that bathing fun can be experienced in full all around the water with maximum safety.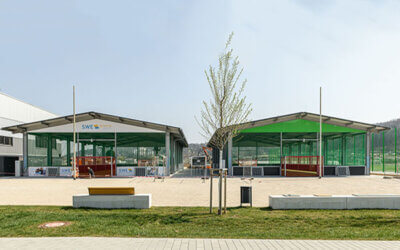 Open-air halls have a bright future.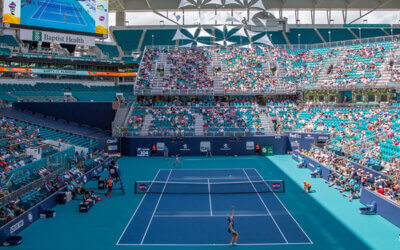 Sand courts are high-maintenance. But there are alternatives.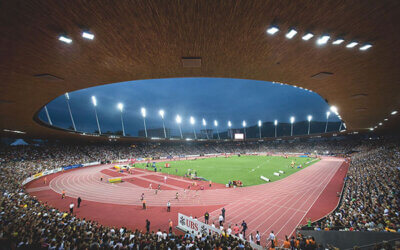 All about athletics running tracks