Home is where the pool is
Hamonic+Masson & Associés
Cyprus is an exceptional territory. Sea, sun and beauty adorn its landscape and provide the opportunity for unique housing. The proposition for the Limmasol Tower by Hamonic+Masson & Associés seeks to capture this natural splendour for future inhabitants.
Their wild apartment tower concept has round swimming pools sprouting almost organically from the facade on all sides. Limassol Tower grants every unit in the building its own private pool, overlooking the sparkling Mediterranean horizon.
Covering a total of 6,000 square meters (roughly 64,600 square feet), the residential tower houses 19 luxury apartments, an underground fitness zone, art gallery and spa.
The project rises from nature, echoed by the corolla-shaped balconies found in each apartment. Home to private swimming pools and planted green areas, they are like an independent island, but simultaneously have a direct link to the apartment. This creates a luxurious living experience, where exterior meets interior.
A sliding glass door is the only element separating living areas from the balconies, meaning the feeling of being outside is possible simply by opening the window.
The corolla system is also found on the ground floor green landscape; round platforms and sunshades engender a distinctive architectural concept.
Unique experience
On the ground floor a regal entrance opens the doors to a unique living experience. Hamonic+Masson & Associés seek to enhance quality of living by offering a range of amenities: an underground fitness zone illuminated by natural sunlight, an art gallery on the ground floor and a premium spa on the first floor, all with independent entrances. Wellbeing and luxury combine to create an exclusive living experience.
The design for the Limmasol Tower offers many special features and a lot of amenities. It is not very likely that this design will ever be realized, but it is a beautiful and imaginative contribution to the never-ending theme of "pools in lofty heights".
Companies involved & Links
Images
Raphaël Petit
Jean-Charles Augier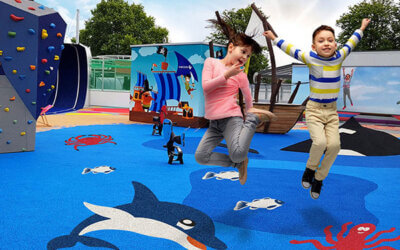 Design your own playground flooring.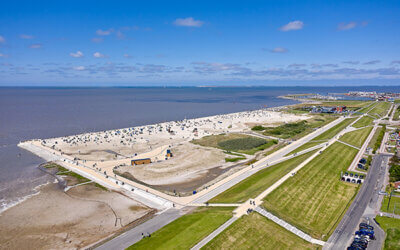 Nature Protection vs. Tourism – an all win.