by C.F. Møller Architects
A new meeting point
C.F. Møller Architects is behind a major project next to the International School Ikast-Brande with a much-awaited expansion with several halls, multi-functional and educational facilities. The project called The Heart makes the educational facilities at the school even better, and at the same time creates a new meeting point centred on an area of fast growth in Ikast.
'Hjertet' (the Heart), as the project is called, includes a multi-purpose building, as well as an activity park, to create a new relation to the neighbouring Business College HHX Ikast, Ikast Brande upper secondary school, the teacher training college, and the International School Ikast-Brande, which was also designed by C.F. Møller.
Europaplads 2, 11.
8000 Aarhus C
Denmark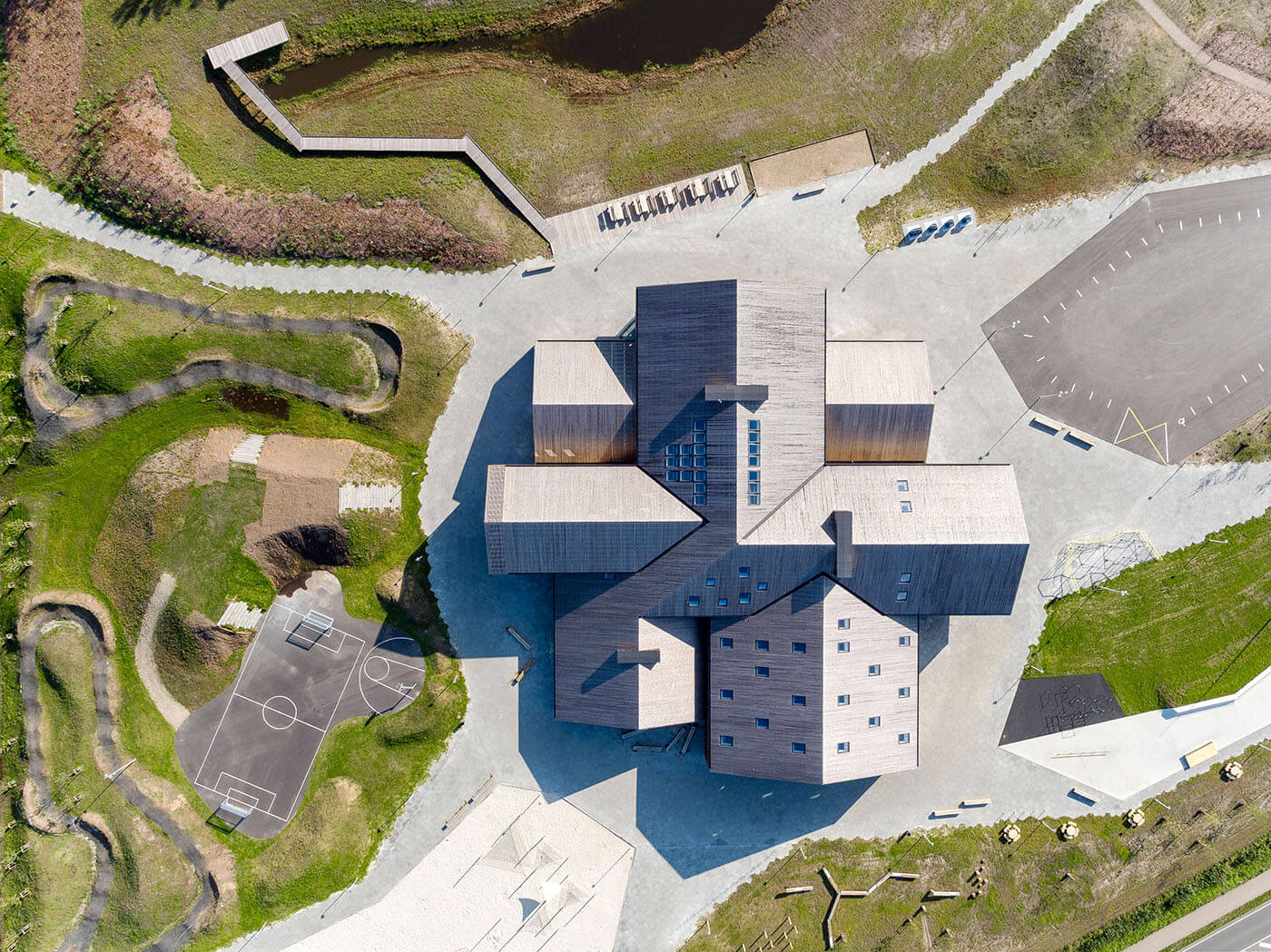 35 user groups
'The Heart' combines education, activities, community, exercise and recreational pursuits in new ways. The international pupils will thus be a natural part of a very wide-ranging group of users, including sportsmen and women, musicians, skaters and users in a social psychiatry project. Overall, 35 user groups were involved in the development of the building and park.
The aim of the Heart is to combine many different facilities and parallel activities, and to use all of the rooms, all the time, all day long, so that the building is always used actively from early morning to late evening – expressed in an architecture that resembles a small town, with varying roof heights and a square which gathers, leads and distributes the users.
Hjertet
Vestergade 65
7430 Ikast
Denmark
Central square & streets sports hall
The Heart covers 3,660 m² in total, and features a central square with a performance stage. The square distributes users out to the various rooms in the multi-building.
One wing holds the school's teaching rooms, which in the afternoons and evenings can be changed to multi-rooms and art workshops for associations and evening schools.
For young people and younger sports enthusiasts, the street sports hall is particularly interesting, as it is designed so as to retain a sense of being outdoors.
There is also a café with a service kitchen, and a shop area where organic groceries from a local socio-economic initiative as well as handicraft by blind producers can be sold.
On the first floor of the multi-building there are various large and small rooms for relaxed movement activities such as dance and yoga, as well as cultural events and performance culture, and counselling services for young people in the municipal Youth and Education Advisory Centre.
Accessible activities
The surrounding activities landscape is designed around sustainable drainage principles and includes very active pursuits such as a skate bowl and flowskate parc, a cycle pump-track, parkour facilities and playgrounds, beach volley pits and a multi-use playing field; as well as more quiet and shared activities such as spots for petanque, picnics and campfires.
The Heart is a very open and accessible building, which also draws attention through its use of many small, informal venues and seating areas, to reinforce the multi-building's capacity as a social gathering point that is not just a place to spend active leisure time.
In its essence the project is a showcase in how broadly different user groups of leisure facilities can be combined.
Pursuing active and social lives
The Heart will give a great boost to leisure time activities, local socioeconomics and teaching opportunities for the school. This also creates a strong contact between the many different users where the young people for instance can obtain advice on important life choices to pursue active and social lives. In this way the Heart connects every walk of life to make it easier to make the next step for each individual.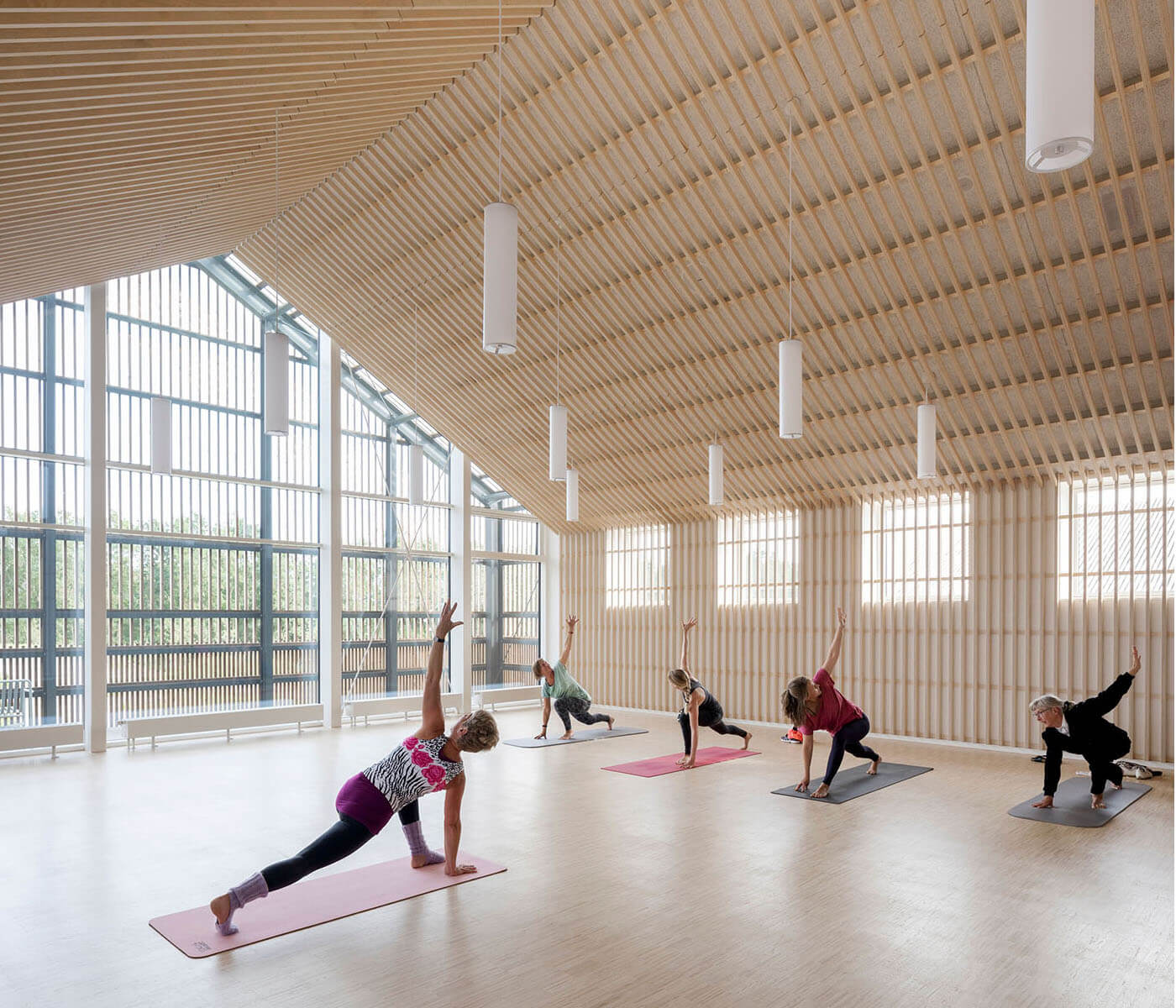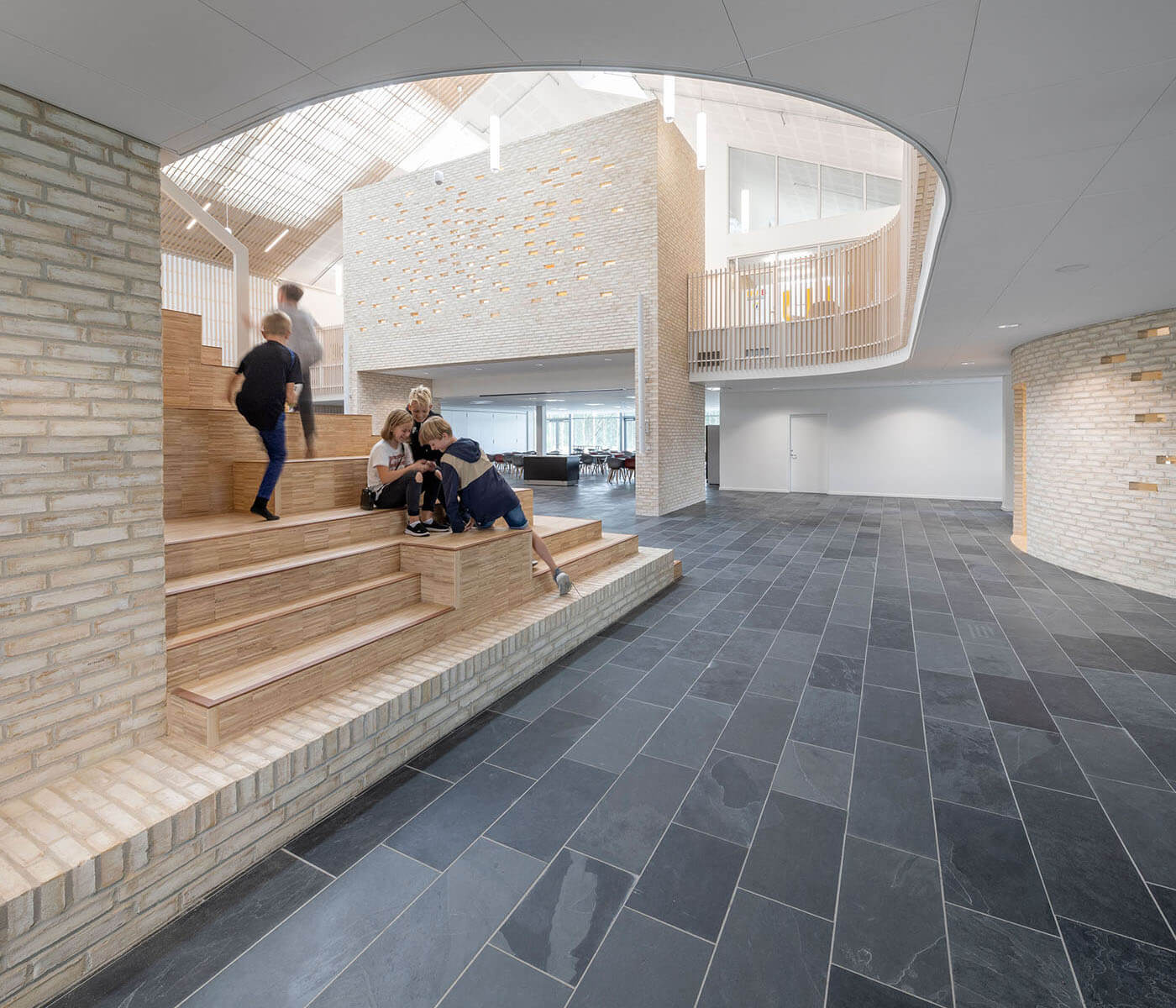 Partner
A number of local and national collaboration partners have joined the field to ensure the project in Ikast-Brande Municipality comes to fruition, including local businesses such as Bestseller, and major Danish foundations Realdania and the Danish Foundation for Culture and Sports Facilities. The Carlsberg Foundation has contributed integrated artworks for both the building and the site.
The floating floor plans and the resulting architecture are a perfect example of how very different user groups of sports and leisure facilities can be organised.
Are you in need of support when publishing your projects?
Or give us a call:
0049 234 5466 0374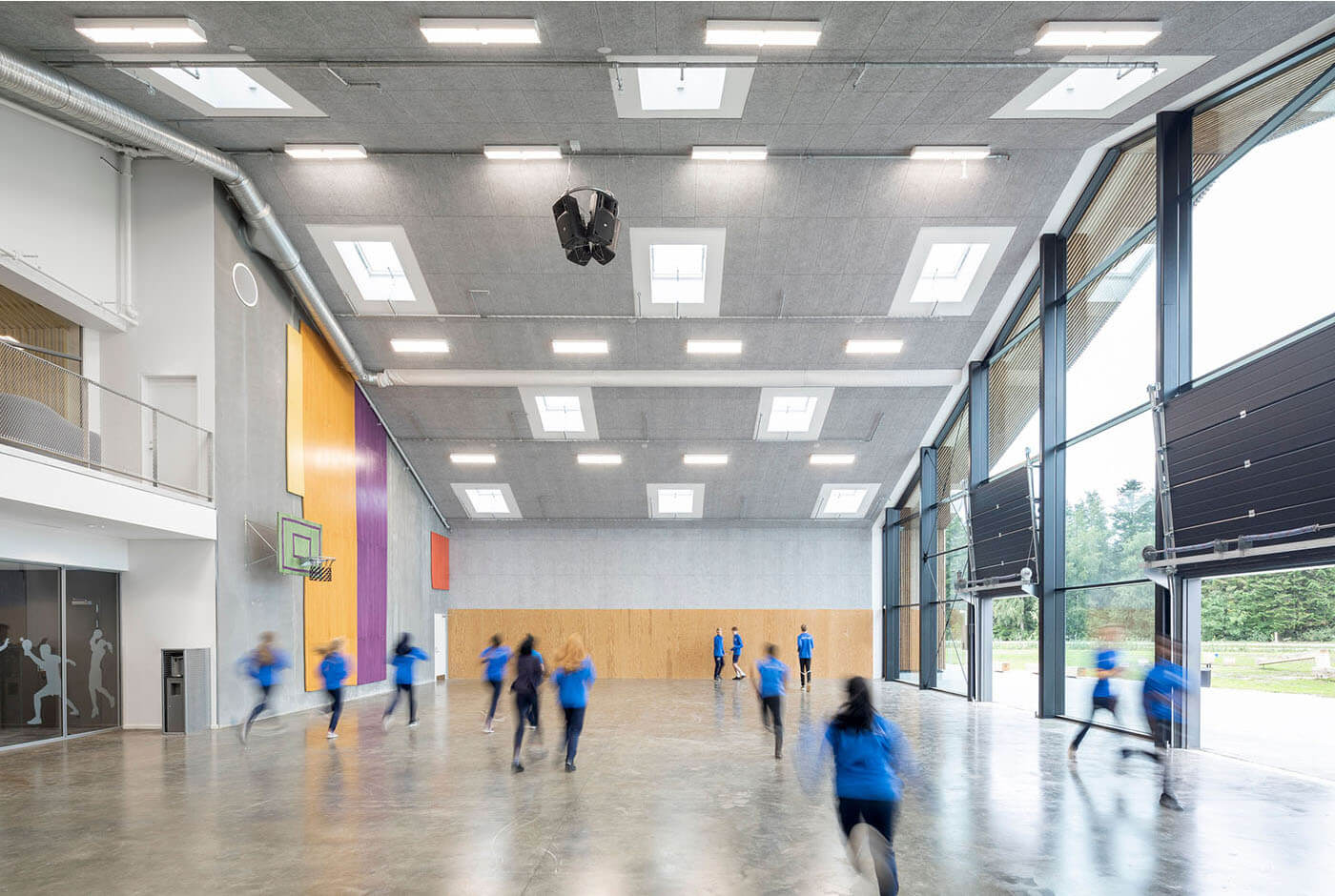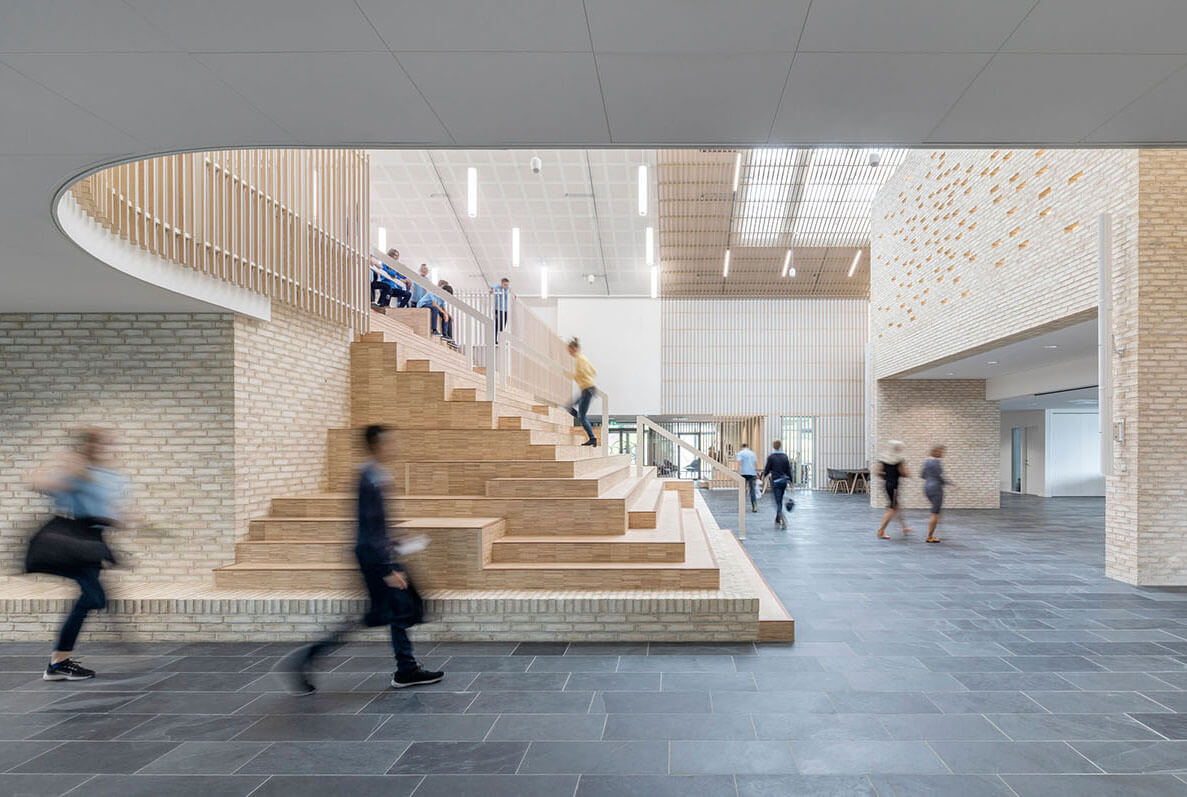 Johannes Bühlbecker, founder
Johannes Bühlbecker is an architect and has worked, among others, for International Association for Sports and Leisure Facilities (IAKS) for 15 years – as editorial director of the renowned trade magazine "sb", in the organisation and realisation of international architectural competitions with IOC and IPC, in trade fairs and conventions, as head of the "NRW Beratungsstelle Sportstätten" ("NRW Advice Centre for Sports Facilities") and as a lecturer at the German Sport University Cologne.
Dipl.-Ing. (engineering degree) Architect, TU Berlin
Longtime editorial head with "sb", an international journal for the architecture of sports
Training in web design, online marketing, etc.
International architectural competitions with IOC and IPC
Trade fair and congress organisation
Head of the "NRW Beratungsstelle Sportstätten" ("NRW Advice Centre for Sports Venues")
Lecturer at the German Sport University Cologne
Planning of the Prussian Stadium in Münster (for großmann engineers, Göttingen)
Replanning a football stadium in Berlin-Köpenick
Numerous publications, i.a. "From Round Leather to Soap Bubbles – The Development of Football and its Architecture"
Board member and youth coach at SV BW Weitmar 09
Visit our Instagram account
[et_pb_df_instagram_feed id="more_sports_media" num="12″ cols="6″ showheader="on" headercolor="#88b14b" width="80″ imagepadding="3″ followtext="Folgen Sie uns" _builder_version="3.21.4″][/et_pb_df_instagram_feed]