The World Is Our Classroom
WeGrow school in New York City
About
BIG and WeWork's collaboration and belief in creativity manifests through the first WeGrow school in New York City. The interactive learning landscape supports a conscious approach to education, nurturing the growth, spirit and mind of the 21st century child. The 10,000 ft² (929m²) learning universe for children aged three to nine is located in WeWork's HQ in Manhattan's Chelsea neighborhood.
Partners-in-Charge: Bjarke Ingels, Daniel Sundlin, Beat SchenkProject Designer: Otilia Pupezeanu
Project Architect: Jeremy Babel
Team: Bart Ramakers, Douglass Alligood, Erik Berg Kreider, Evan Saarinen, Filip Milovanovic, Florencia Kratsman, Francesca Portesine, Il Hwan Kim, Jakob Lange, Ji Young Yoon, Kristoffer Negendahl, Josiah Poland, Mengzhu Jiang, Ryan Yang, Stephen Kwok, Terrence Chew, Tore Banke, Tracy Sodder
BIG Ideas: Tore Banke, Kristoffer Negendahl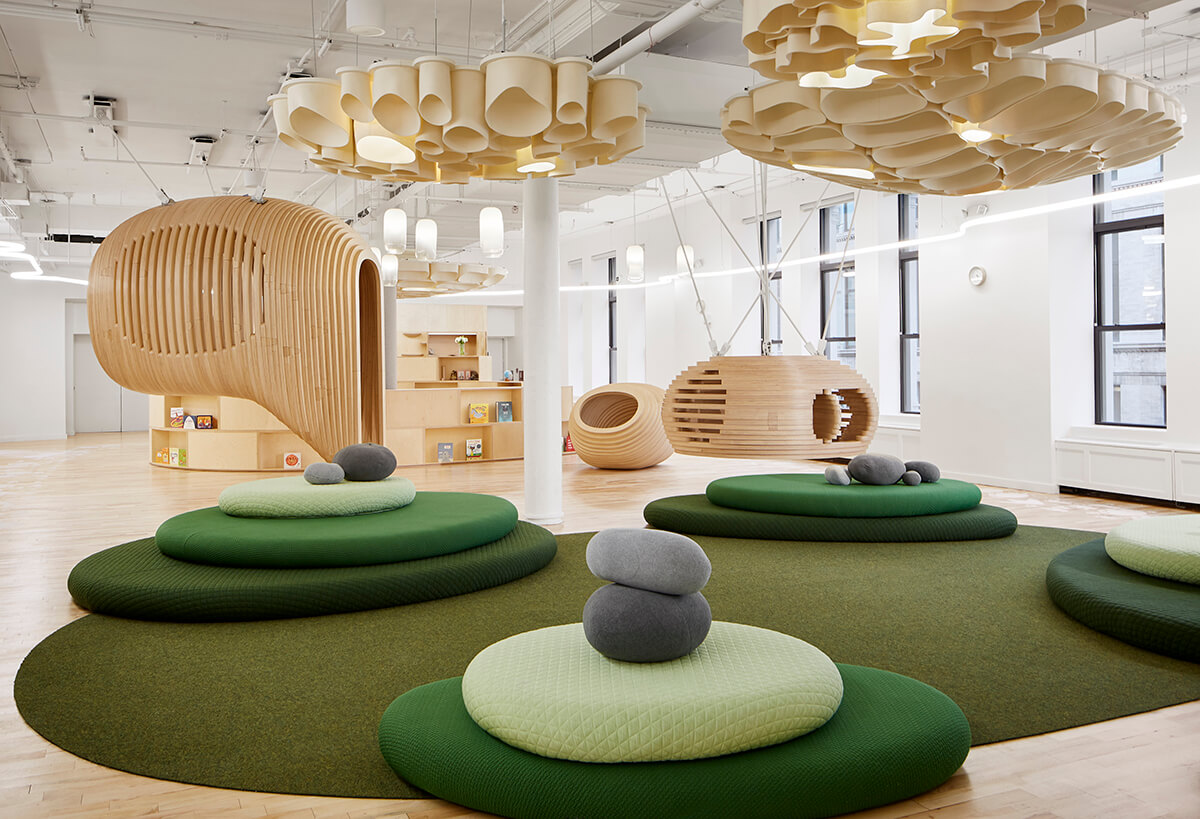 Classroom + learning landscape
The design starts from the premise of a school universe at the level of the child. A field of super-elliptic objects forms a learning landscape that's dense and rational – yet free and fluid. Modular classrooms, tree houses and a vertical farm promote an inclusive and collaborative learning environment. Acoustic clouds, natural materials and neutral colors create a calm setting for the child's focused study.
A field of spaces with a variety of functions allow children to move freely throughout the day and to learn from the environment around them and each other. The learning landscape encourages collaboration by emphasizing transparent and communal spaces, which comprise more than half of the school: four classrooms, flexible workshops, community space, multi-purpose studio, art studio, music room and other playscapes support the energy of creation and togetherness.
WeGrow
110 W 19th St
New York
NY 10011
USA
Shelves
Most of the partitions inside the school are shelves raised to the level of the child, allowing natural light to reach deep inside the building. Three different shelving levels for each age group curve occasionally to create various activity pockets and give a feeling of comfort, safety and community, while allowing teachers to have full perspective of the space at all times.
Above, acoustic clouds made of felt reflect the different patterns in nature – fingerprint, coral, landscape and moon – and illuminate with Ketra bulbs that shift in color and intensity based on the time of day.
Learning stations
Each learning station within WeGrow includes furniture with details and materials carefully designed by BIG to optimize the educational environment: modular classrooms promote movement and collaboration, puzzle tables and chairs manufactured by Bendark Studios come in kid and parent sizes to offer equal perspectives, and the vertical garden with tiles made in Switzerland by Laufen house different plants depending on shade exposure.
The mushroom shelves and magic meadow create a calm setting for a more focused study while reading hives form an immersive library for an organic learning environment.
Lobby
Teachers and parents share the lobby with the children, where a playful felt nook forms from the smooth cut out in the walls to serve as a flexible work, meet and waiting area. Children can join in the brain puzzle, an all-felt lounge that can be taken apart for playing and learning. From the lobby to the classrooms, WeGrow is lit by Gople Lamp and Alphabet of Light – flexible lighting systems designed by BIG Ideas and manufactured by Artemide to create ambience effects that form comfortable, natural lighting throughout the school day.
Playful and transparent, yet homelike and structured, WeGrow nurtures the child's education through introspection, exploration and discovery.
New York Post states: "The $42,000-a-year curriculum ($36,000 for preschool for ages 3 to 4 and $22,000 for 2-year-olds) is a slick mish-mash of Montessori, New Age philosophy and Silicon Valley capitalism set amongst Architecture Digest-worthy interiors."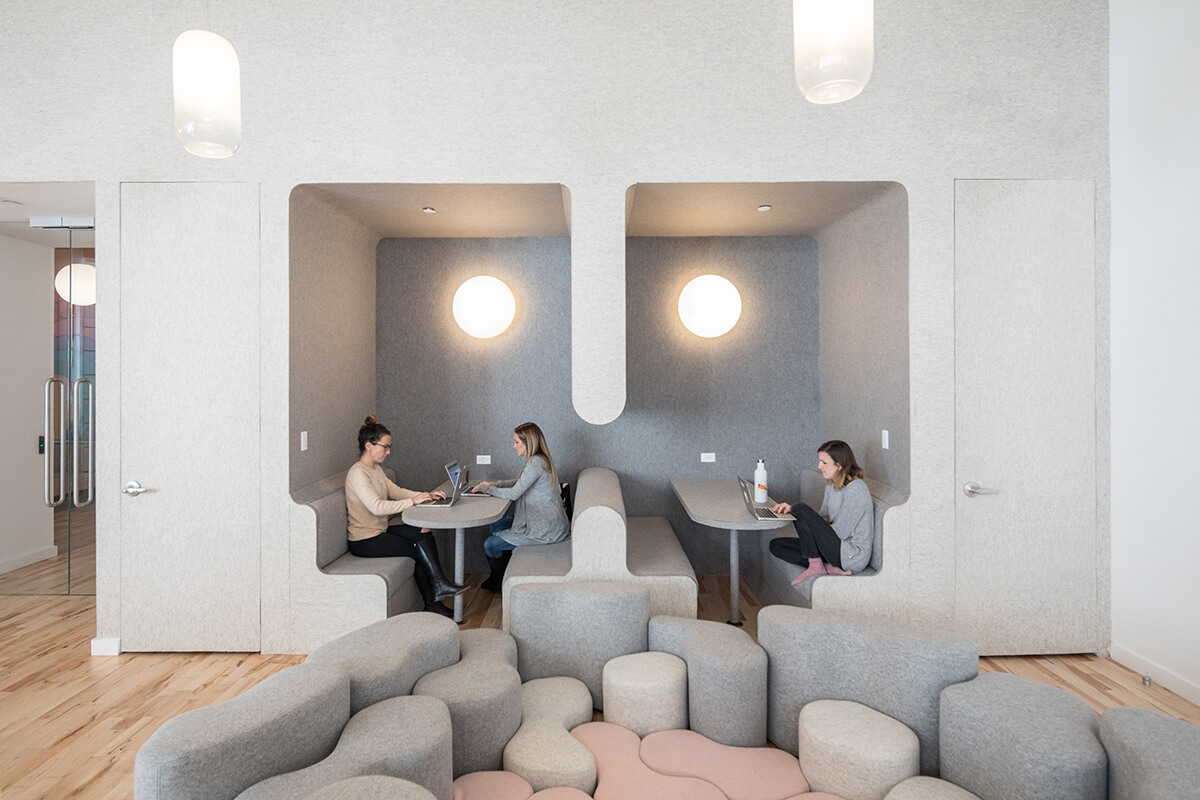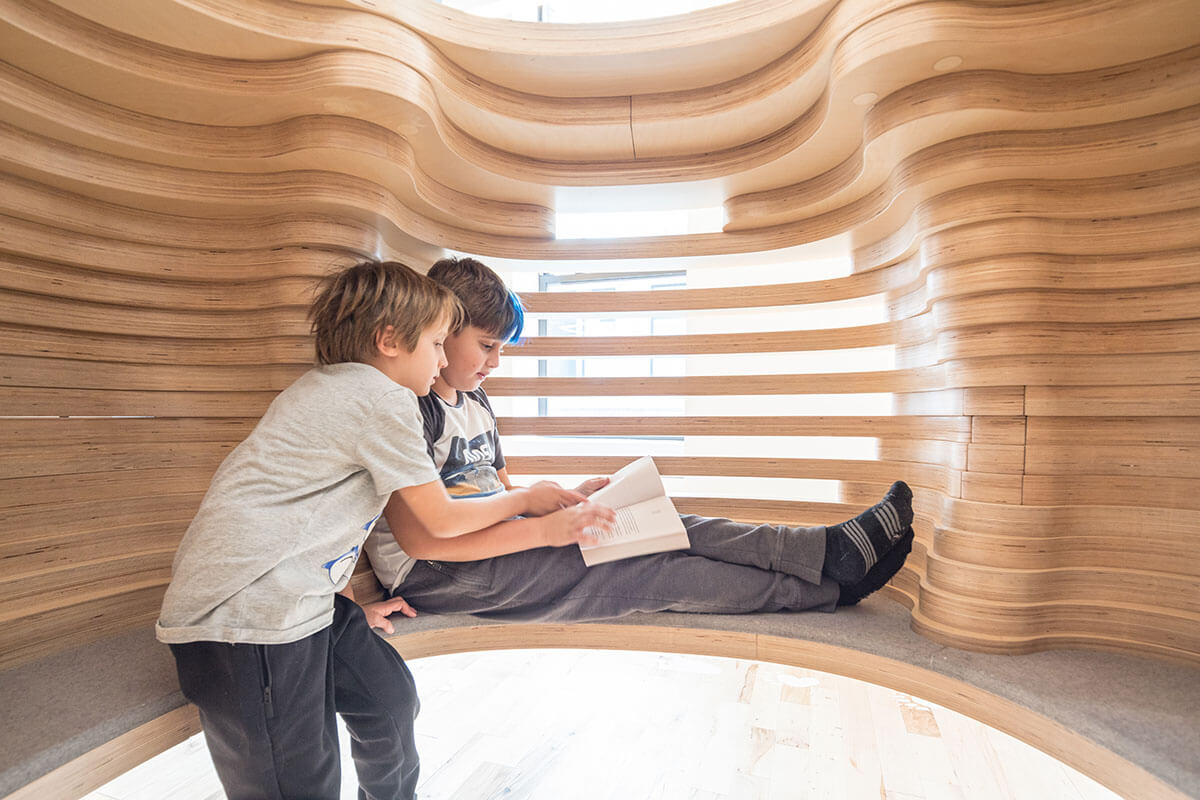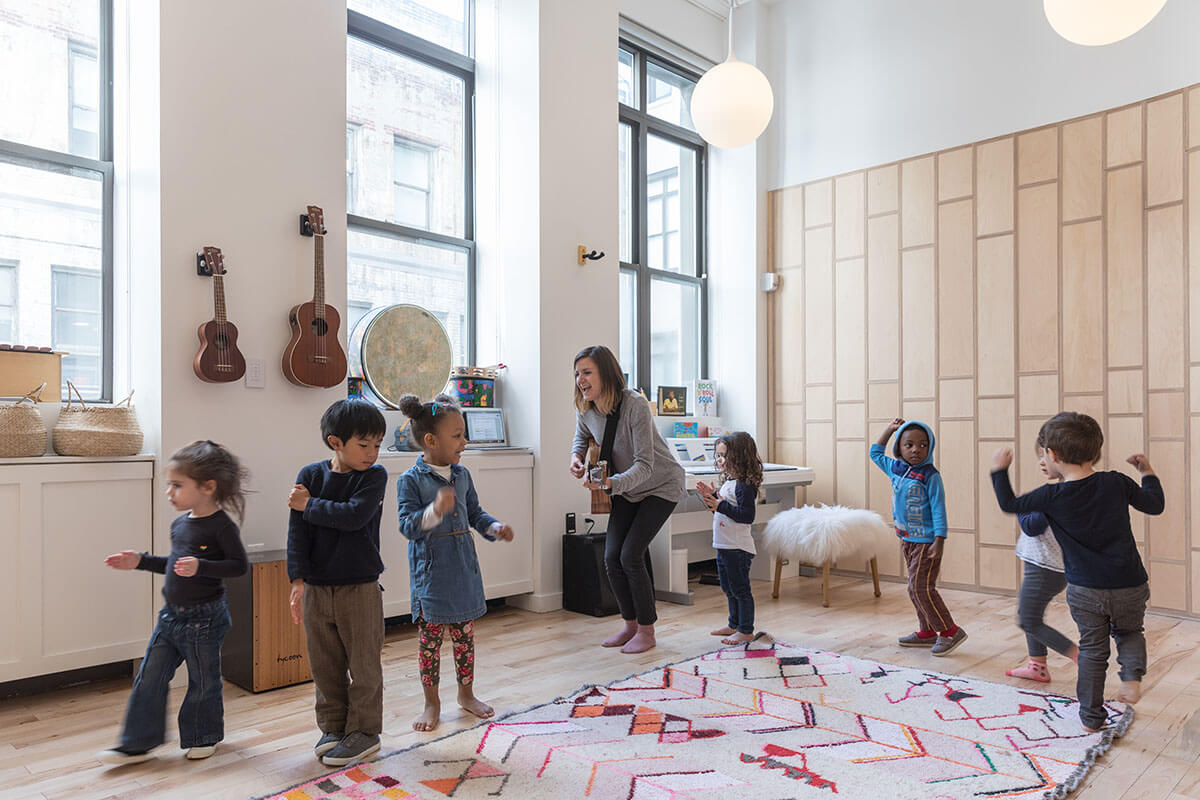 Johannes Bühlbecker, founder
Johannes Bühlbecker is an architect and has worked, among others, for International Association for Sports and Leisure Facilities (IAKS) for 15 years – as editorial director of the renowned trade magazine "sb", in the organisation and realisation of international architectural competitions with IOC and IPC, in trade fairs and conventions, as head of the "NRW Beratungsstelle Sportstätten" ("NRW Advice Centre for Sports Facilities") and as a lecturer at the German Sport University Cologne.
Dipl.-Ing. (engineering degree) Architect, TU Berlin
Longtime editorial head with "sb", an international journal for the architecture of sports
Training in web design, online marketing, etc.
International architectural competitions with IOC and IPC
Trade fair and congress organisation
Head of the "NRW Beratungsstelle Sportstätten" ("NRW Advice Centre for Sports Venues")
Lecturer at the German Sport University Cologne
Planning of the Prussian Stadium in Münster (for großmann engineers, Göttingen)
Replanning a football stadium in Berlin-Köpenick
Numerous publications, i.a. "From Round Leather to Soap Bubbles – The Development of Football and its Architecture"
Board member and youth coach at SV BW Weitmar 09
Visit our Instagram account
[et_pb_df_instagram_feed id="more_sports_media" num="12″ cols="6″ showheader="on" headercolor="#88b14b" width="80″ imagepadding="3″ followtext="Folgen Sie uns" _builder_version="3.21.4″][/et_pb_df_instagram_feed]