When structure becomes architecture
Stadio Communale Travettore di Rosà
Didonè Comacchio Architects
The Italian studio Didonè Comacchio Architects has built a covered grandstand for the municipal stadium of Travettore di Rosà in Italy, which derives its grace and elegance from its reduced formal language – entirely in the style of Classic Modernism. A covered spectator area with 300 seats was required.
The Stadio Communale Travettore di Rosà is the home of the FCD Transvector (Secunda Categoria, that is the 8th league) near Vicenza. It was opened in summer 2020.
With a few gestures, the architects create a clear and covered space that sits like a hinge between the natural environment and the pitch.
The roof of the Stadio Communale Travettore di Rosà reminds very majestically of the coffered ceiling of the New National Gallery in Berlin. It is supported by two massive concrete slabs, and they are also at right angles to each other and pointing the way.
The rectangular roof structure, 30.5 meters long and 10.5 meters wide, consists of a grid of steel girders that form a coffered ceiling. A single, linear, horizontal element made of steel can be experienced.
The lighting is located in the panels. It is covered by a dark metal grid in the color of the roof.
These two reinforced concrete bodies and the concrete steps under this roof provide a celebration appropriate to Italian soccer. Structure becomes architecture. The strict form demands full concentration on art.
These are similarities to Mies van der Rohe's New National Gallery. Here, art simply consists of a match in the eighth Italian league.
Soccer is art when it appears simple. This also applies to architecture.
Architect
Didonè Comacchio Architects
Via dei Prati, 14
I – 36027 – Rosà, Vicenza
Project team
Paolo Didonè, Devvy Comacchio, Gianmarco Miolo, Denis Stoppiglia, Lorenzo Fravezzi
Tragwerksplanung:
Ing Stefano Scomazzon (i+da)
Betonbau:
Impresa edile F.lli Bizzotto
Stahlbau:
Lorenzin srl
Photograph
Simone Bossi Photographer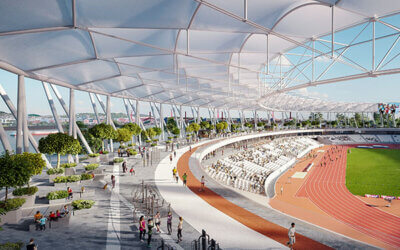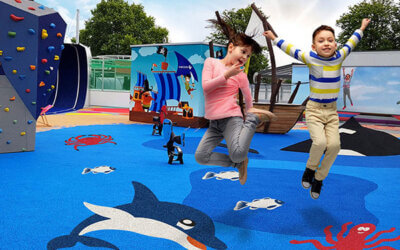 Design your own playground flooring.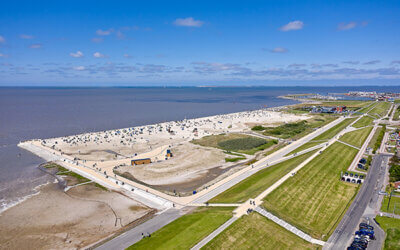 Nature Protection vs. Tourism – an all win.