Sports must come to people
Sports of the future in time of the Corona crisis
Lucky are those who have carefully followed developments in the future of Sports and evolved with the trends! That may provide an advantage right now. For everyone else who has not yet delved into these, action is now the order of the day. One of the main trends for Sports in the future is: "Sports must come to people, not people to sports".
Originally arising out of the mobility megatrend, it is especially true in times of increased immobility of the individual. Assuming you don't want to lose customers, members, etc., and even want to gain and grow. There is also an opportunity in this crisis.
Ideal for sports centers, the workbook "
Sportverein 2030
" is published by the Swabian Gymnastics Association, the Lower Saxony Gymnastics Association and the Swiss Gymnastics Association. The chapters on the subjects of mobility and digitalization or virtualization can be modified to better fit the current, altered conditions.
Perhaps this is how ideas come together to keep the members happy, to allow training to take place differently and privately, or maybe "just" in order to easily build community.
This may very well develop lasting concepts for Sports in the future too, because after the corona crisis, the megatrend of mobility will definitely be very present again!
For businesses in the sports sector there are now many opportunities to reach the customer, especially through service and support of the individual athlete during their outdoor training or at home.
But networking for the immobilized sports community also offers potential despite restricted or suspended public life. What is needed are ideas and offers through which Sports-active society can move, network and help preserve their liveliness and vitality.
From online workout classes and live training offers, innovative systems such as the smart training Mirror or tracking apps like Strava, Sports's future and mobile living have long made their way into people's homes. There is also potential in the area of "occupational health management", with the question: How can we bring healthy active living into the home office?
In China, and as a result of Covid-19, providers quickly adapted towards offering workouts streamed online, as well as new fitness equipment suited to life within our own four walls. According to
reports
, an entire fitness studio in Guangzhou went virtual with over one thousand members. Other streamed their workout service over
WeChat
.
Providers such as Peloton have also found success with this model for Sports in the future, offering among their range a €2,300 luxury indoor fitness bike alongside a membership and live courses including comprehensive services in a media library and online community, with the motto "connect, bond, inspire and grow stronger together".
The future of Sports can also be worn, if you like: with the Nadi X yoga pants by Wearable Experiments, movement can be kept up without a yoga studio, YouTube or Zoom courses.
These pants feature integrated sensors that detect the Yogi's posture and guide the wearer by means of vibrations, when a position is not being held correctly.
Professional Sports: We are family
Just how sports events must be postponed and creatively solved, was shown by FC Schalke on March 14
th
. As the match against Borussia Dortmund was cancelled, the club allowed fans the chance to relive its "centennial derby" on
Twitter
. It was in November 2017 that Schalke recovered from an 0:4 deficit to 4:4 in extra time.
Nowadays, fans are included more than ever, it is no longer about front-row seats, a game or the club, but about a new experience and community culture. And that can also be achieved through community projects. Second division's TV Hüttenberg offers Neighbourhood assistance, in which handball players are taking care of home shopping for people in quarantine or for those particularly at-risk, healthwise.
The technology-loving and networked Sports society
Regardless of whether for a sports club, company, Sports event provider or a professional sports, thanks to the networking megatrend, the numerous technological innovations and the sports community's high willingness to use them, many new ways can be developed in the current situation of "bringing sports to people". Sustainedly, too, even in a post-corona era.
Companies involved & Links
Photos
Pixabay
Peloton
Wearable X
Mirror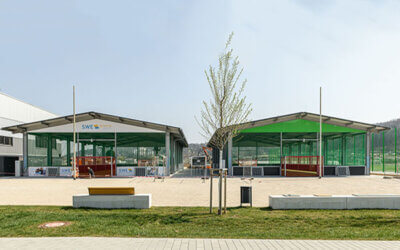 Open-air halls have a bright future.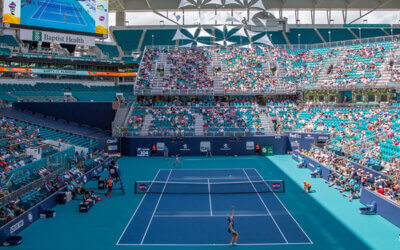 Sand courts are high-maintenance. But there are alternatives.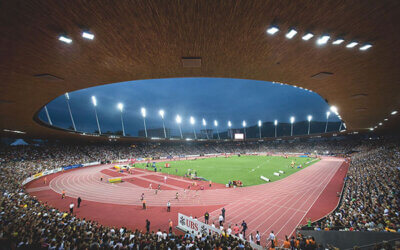 All about athletics running tracks