Blaise Pascal High School Gymnasium in Abidjan
Koffi & Diabaté Architects
The Blaise Pascal High School Gymnasium in Abidjan, Ivory Coast, designed by Koffi & Diabaté Architectes, opened in 2017.
is a perfect combination of meeting the needs of the students and attention to sustainability in this particular climatic belt in the world.
This text already appeared in a similar form on the wonderful pages of FLOORNATURE.
The architects started off with a highly sustainable approach by using passive design.
The 3,822 square metre Blaise Pascal High School Gymnasium , perfect for the 1,500 high school students to play sports, was built entirely from bare concrete, with contemporary geometric lines and is a gentle fit on the slope of the school site. One of these – the red sheet metal skin – stands out in particular. It makes sense in this hot and humid tropical climate because it is perforated, bringing natural ventilation and light throughout the whole facility and at the same time eliminating the need for air-conditioning.
This bioclimatic decision softens the bold materiality of this imposing volume and paves the way for a sensation of comfort, at the same time underscoring the connection between interior and exterior.
Functionality and atmosphere
The inside of Blaise Pascal High School Gymnasium is distinguished by the attentive work focused on the functional aspect, the fluidity of outdoor circulation and the easy maintenance. The locker rooms, a teacher's hall, a storage area, and the gym are all located on the ground floor.
Upstairs, the steel structure and its cladding acting as external Venetian blinds, accommodate bleachers with a capacity of 200 spectators and opens to a sports platform of 1000 square meters offering an exceptional place for various events that animate the Secondary School.
The indoor climbing wall is the first in western Africa, 36 metres wide and 9 metres high. The sports equipment is as discreet as possible and can be moved for greater flexibility in the use of spaces.
Blaise Pascal High School Gymnasium is functional, welcoming, sustainable and iconic; it is an architecture that joyously celebrates the present without forgetting the past despite being projected towards the future, in accordance with a famous aphorism by the French scientist and philosopher Blaise Pascal who gave his name to the high school.
The Blaise Pascal High School Gymnasium won the award for the best sports building built at the 2018 World Architecture Festival. The jury recognised it as "an exemplary, ethical and beautifully realised project, perfectly balancing tectonic and environmental design with astonishingly mature spatial and formal control."
Companies involved & Links


AGPB – Association Gestionnaire de Blaise-Pascal
Lycée français Blaise Pascal – Riviera
CIV – 3– 25 BP 2257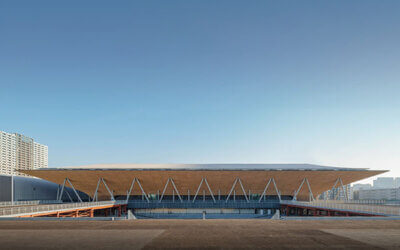 Exceptionally harmonious atmosphere, especially given the scale.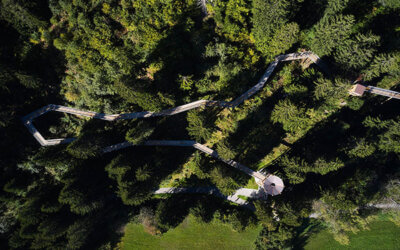 The world"s longest treetop path.