Public space beautification
About
Pixeland by 100architects brings together a number of different outdoor facilities, including playground spaces for kids as well as landscaping and entertainment for adults and families. Installed in Mianyang (5.45 million inhabitants), China, the space features a series of multi-purpose 'pixel' spaces which create a unique multi-use public plaza. Mianyang (5.45 million inhabitants) is a key centre for the electronics industry located in the northwest of Sichuan Province.
Pixeland is a public space beautification comprising a combination of different outdoor facilities in a single space, such as landscape features, playscape features for kids and leisure features for adults.
The project is inspired by the digital concept of pixels. While a pixel is the smallest independent sample of an image with its own RGB or CMYK color information, it is the combination of numerous pixels what results in any given digital image.
100architects
Shanghai
Team: Marcial Jesús, Javier González, Stefanie Schramel, Marta Pinheiro, Lara Broglio, Mónica Páez, Keith Gong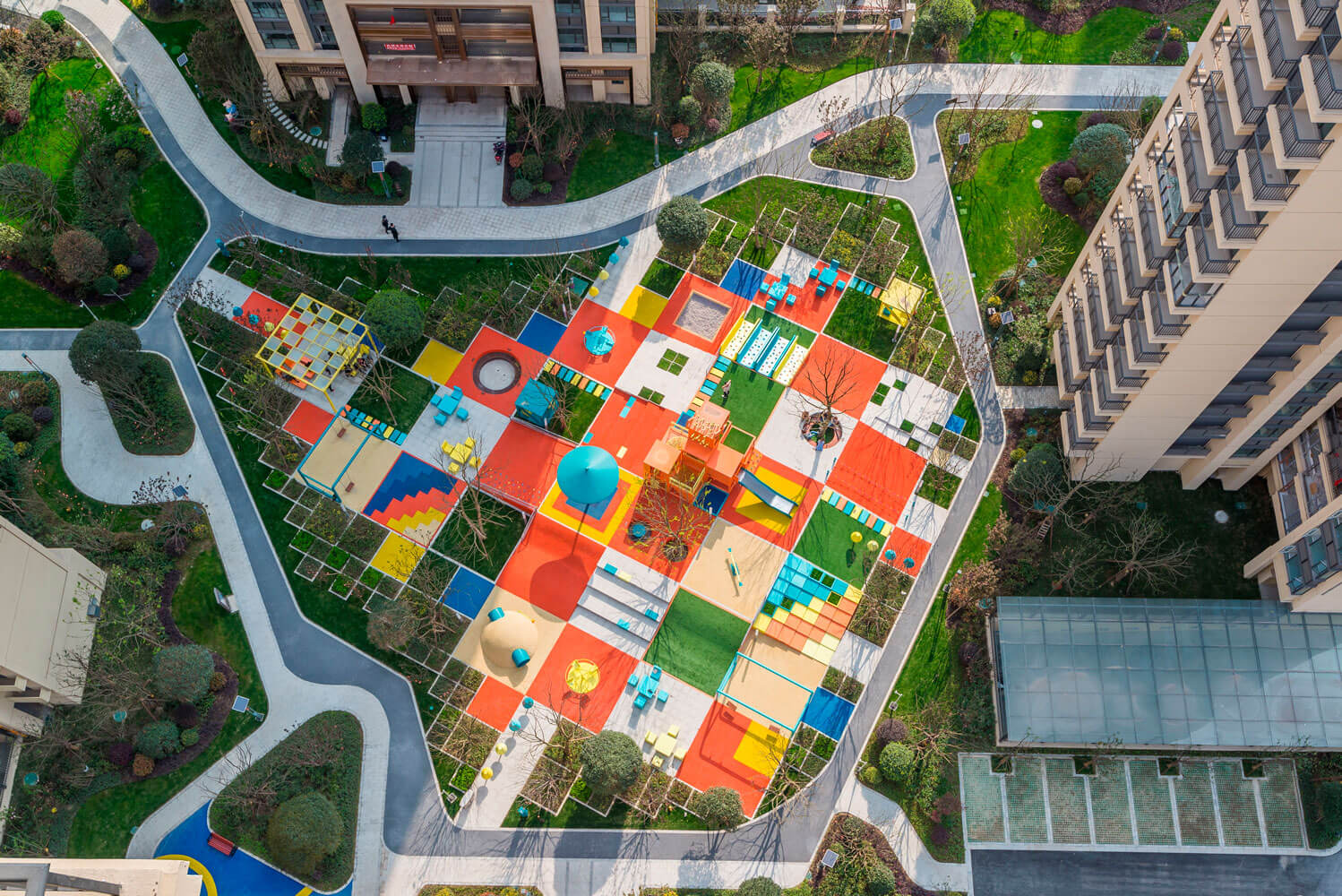 Pixels
Transferring this idea to the spatial organization strategy of the project, 100architects thought of creating a multifunctional public space by the addition and combination of smaller independent functional pixels. While each of the pixels has its own function and characteristics and could be read as an independent entity, the combination of all of them results in a very eye-catching and playful general multifunctional public space.
The result is a 1500-square metre public city plaza in a residential district of Mianyang which aims at creating a multipurpose public space.
The main pixel used in the core of the project is a perfect square of 5 x 5 m, as the minimum space to host functions suitable for a group of people, while as we get closer to the borders, smaller pixels of 2,5 x 2,5 m and 1,25 x 1,25 m are introduced as a modular approach to solve the accesses, the pedestrian circulation and the landscape in the border.
Binjiang East Road
Youxian District
Mianyang City
CN-Sichuan Province
Equipment
Surrounded by small pixels of greenery as a border solution to provide privacy and safety confining the playscape, the plaza is also equipped with lounge resting areas, picnic areas with seats & tables, seating box structures to provide shadow, sunken communal benches, sloped lawns to lay down and small amphitheaters for gatherings.
Besides the leisure features, Pixeland also counts with a wide range of playful features scattered around, culminated with a voxelated Horse-themed playground in the middle of the plaza, for the joy and entertainment of the younger visitors.
The checkered plaza has been developed in a multilevel way, providing an interesting artificial topography growing in height towards the center, where the voxelated horse is strategically placed on the top.
Are you in need of support when publishing your projects?
Or give us a call:
0049 234 5466 0374
That's what our partners say
Johannes Bühlbecker, founder
Johannes Bühlbecker is an architect and has worked, among others, for International Association for Sports and Leisure Facilities (IAKS) for 15 years – as editorial director of the renowned trade magazine "sb", in the organisation and realisation of international architectural competitions with IOC and IPC, in trade fairs and conventions, as head of the "NRW Beratungsstelle Sportstätten" ("NRW Advice Centre for Sports Facilities") and as a lecturer at the German Sport University Cologne.
Dipl.-Ing. (engineering degree) Architect, TU Berlin
Longtime editorial head with "sb", an international journal for the architecture of sports
Training in web design, online marketing, etc.
International architectural competitions with IOC and IPC
Trade fair and congress organisation
Head of the "NRW Beratungsstelle Sportstätten" ("NRW Advice Centre for Sports Venues")
Lecturer at the German Sport University Cologne
Planning of the Prussian Stadium in Münster (for großmann engineers, Göttingen)
Replanning a football stadium in Berlin-Köpenick
Numerous publications, i.a. "From Round Leather to Soap Bubbles – The Development of Football and its Architecture"
Board member and youth coach at SV BW Weitmar 09
Visit our Instagram account
[et_pb_df_instagram_feed id="more_sports_media" num="12″ cols="6″ showheader="on" headercolor="#88b14b" width="80″ imagepadding="3″ followtext="Folgen Sie uns" _builder_version="3.21.4″][/et_pb_df_instagram_feed]