Feyenoord City in Rotterdam
Situation
A historically significant stadium due to its distinctive design, with the oval stands positioned close to the pitch so audience and players are in intimate proximity, De Kuip is known for its unique and intense atmosphere.
Built 80 years ago, the current stadium of Rotterdam-based football club Feyenoord no longer fulfills modern demands. To facilitate the football club's expanding ambitions both in the national and European football leagues, multiple plans for a new and renovated stadium have been made and presented over the past decade, none of which received final approval.
In 2016, Operatie NL, OMA and Feyenoord proposed a different approach: the construction of a new stadium combined with the development of the surrounding neighborhood.
OMA
Office for Metropolian Architecture
Heer Bokelweg 149
3032 AD
Rotterdam
Netherlands
Team:
David Gianotten, Kees van Casteren, Shinji Takagi
Andrea Tabocchini, Andrew Keung, Aris Gkitzias, Emma Lubbers, Hanna Jurkowska, Lex Lagendijk, Max Scherer, Stefano Campisi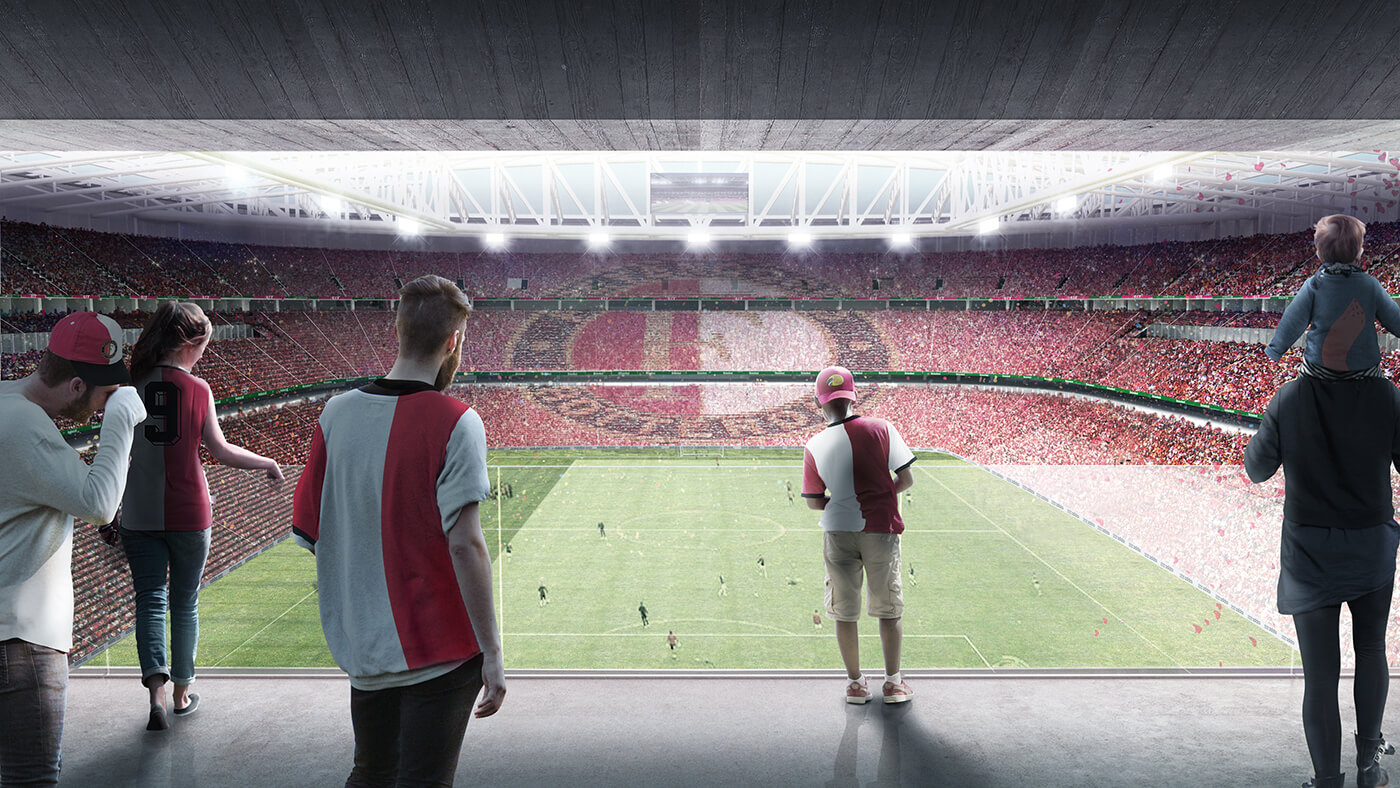 Feyenoord City Masterplan
In collaboration with the football club and the municipality of Rotterdam, OMA has developed the Feyenoord City Masterplan, introducing a new 63,000-seat stadium that will function as catalyst for the urban development of Rotterdam Zuid, one of the neighborhoods of the city in need of rejuvenation and economic injection. After careful consideration of three potential project sites, a location at the waterfront, northwest to the neighborhood De Veranda, was selected.
OMA's masterplan for Feyenoord City consists of five main elements: a new and larger stadium for Feyenoord, renovation of De Kuip, and development of the Urban Bridge, the Strip and the Kuip Park.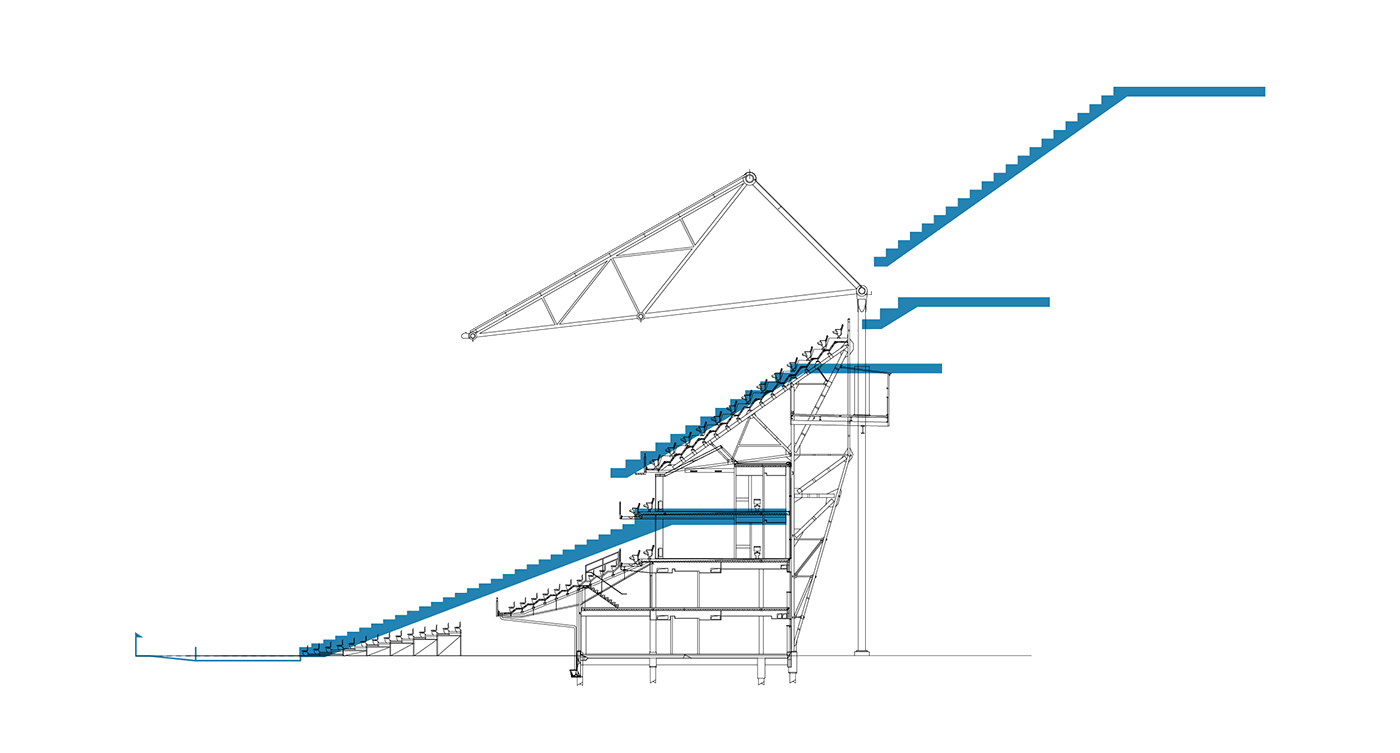 De Kuip
The current stadium De Kuip is to be renovated and redeveloped into apartments, commercial space, an athletics sports center and a public square. The area surrounding the stadium, de Kuip Park, will offer green space for sports and leisure activities as well as residential units.
De Strip, a three-dimensional pedestrian walkway, will connect the old stadium with the new stadium and include new public and commercial space as well as parking facilities. Additionally, Feyenoord City will be connected to the Laan op Zuid through The Urban Bridge, a promenade for slow traffic.
Participation
Located between the river Maas, the railway and the highway, the stadium is positioned at an infrastructural node, ensuring accessibility by car, bus and public transport. The new infrastructure and stadium development is accompanied by an extensive social program with sports at its core.
Feyenoord will set up a new multi sports club for the residents of Rotterdam Zuid, and cooperate with the surrounding neighborhoods to encourage sports participation.
OMA
Frans Parthesius, Courtesy of OMA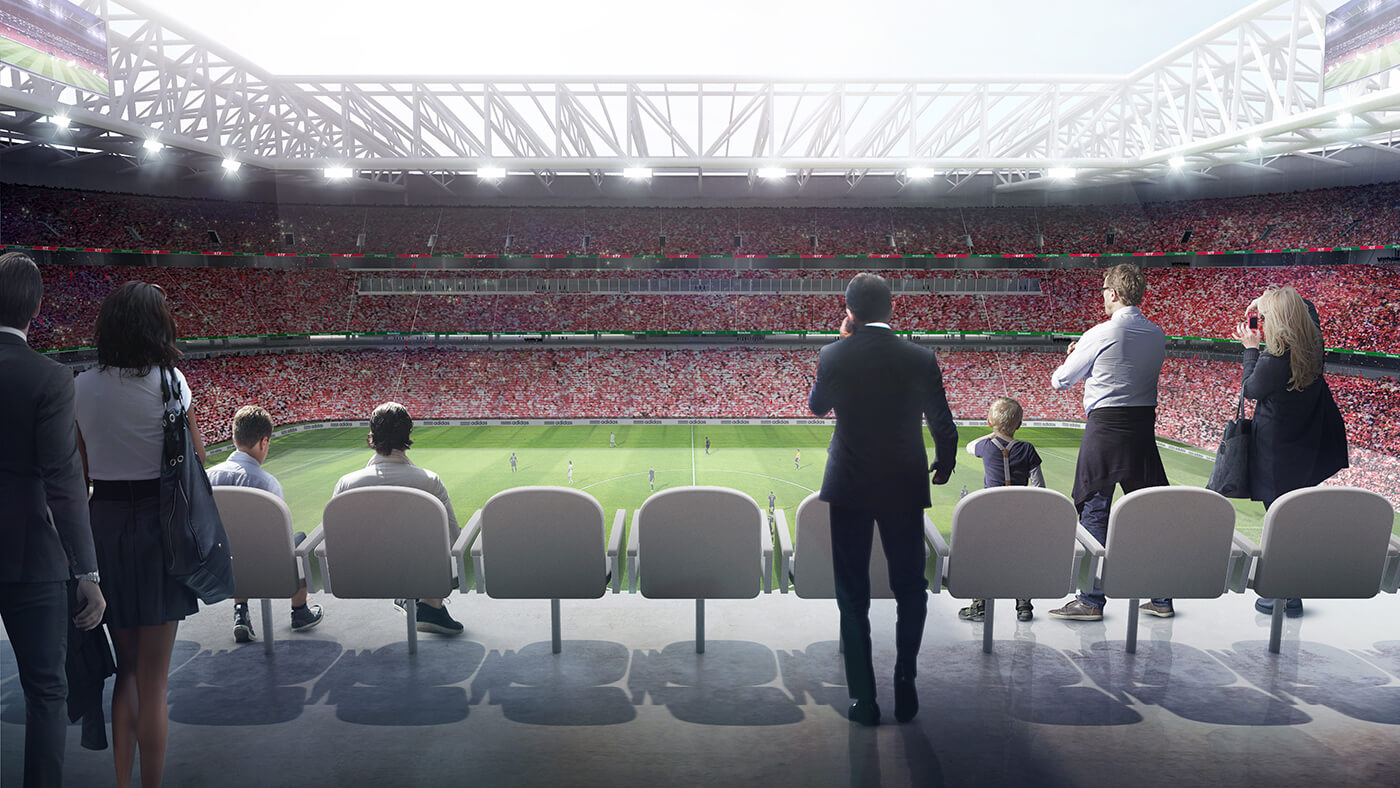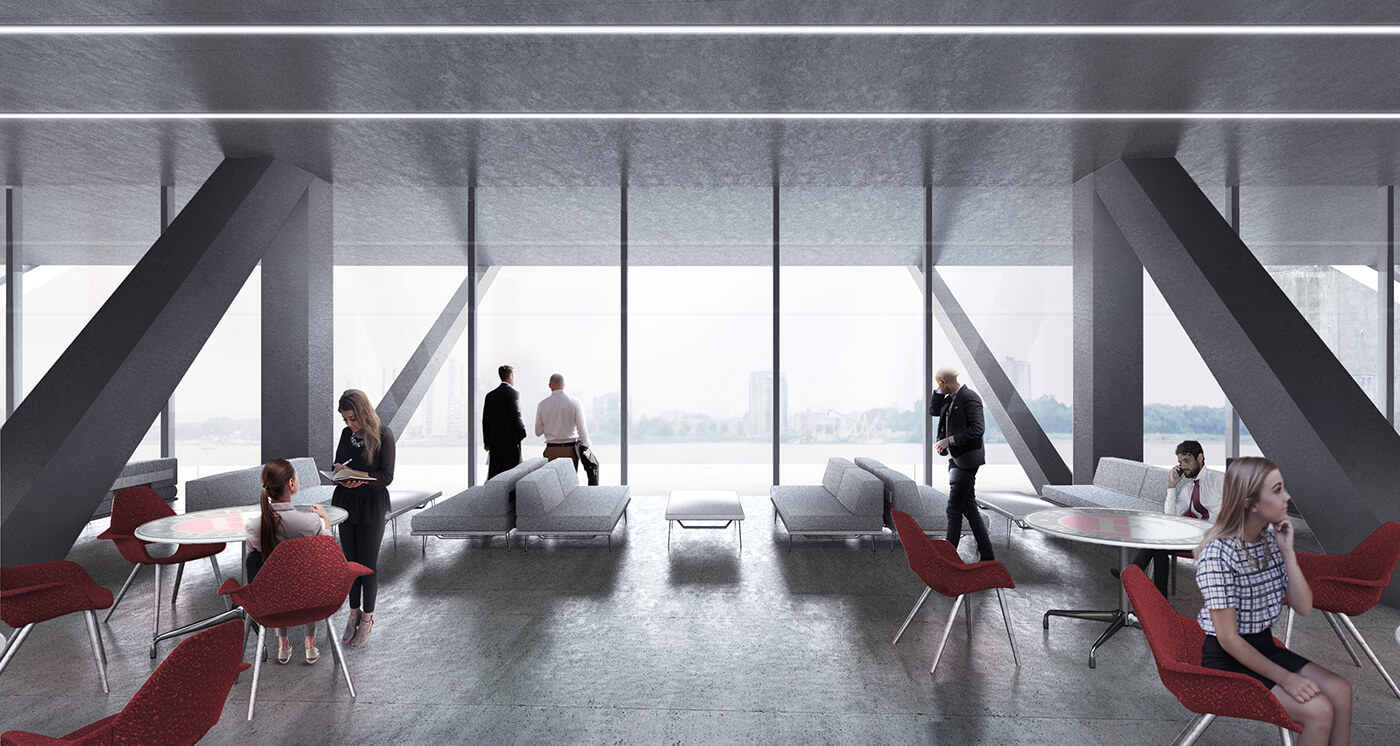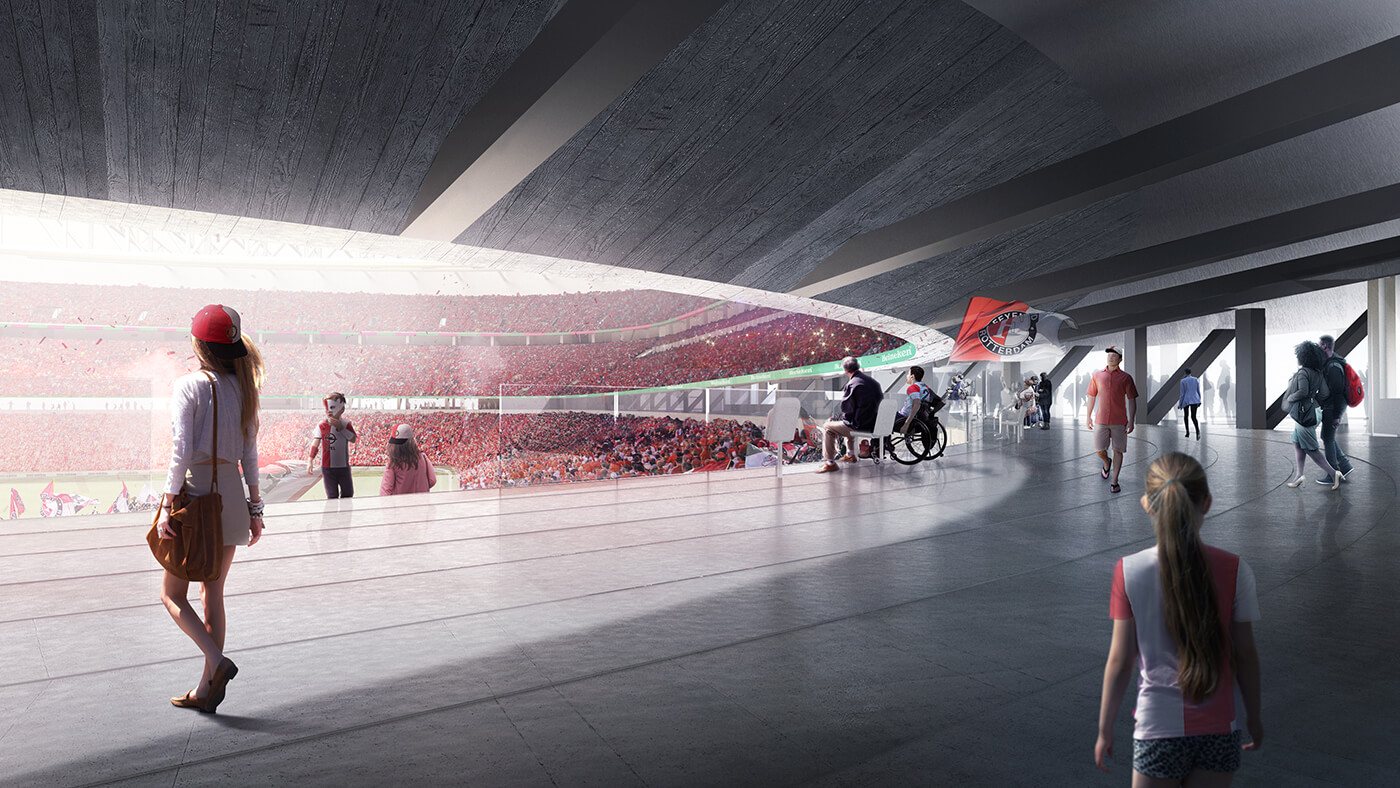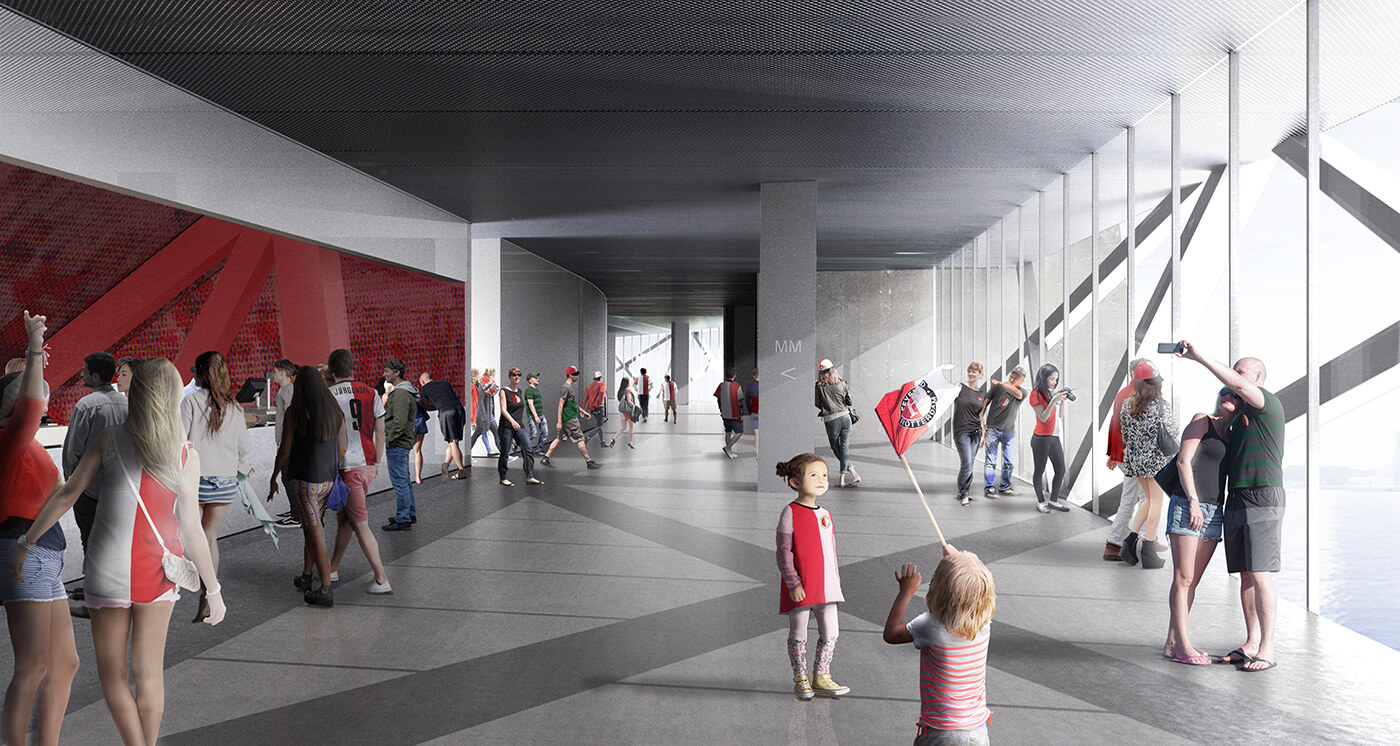 Program
In total, the program of Feyenoord City consists of 255.000m² housing; 64.000m² commercial space including a new cinema, restaurants, hotels, and shops and 83.000m² public program including a sports experience centre and sports fields.
Besides providing a new home to football club Feyenoord and renovating De Kuip for future uses, OMA's Feyenoord City masterplan aims to spark the redevelopment of Rotterdam Zuid, activate its waterfront and to reconnect this part of the city to the surrounding neighborhoods.

Are you in need of support when publishing your projects?
Or give us a call:
0049 234 5466 0374
Johannes Bühlbecker, founder
Johannes Bühlbecker is an architect and has worked, among others, for International Association for Sports and Leisure Facilities (IAKS) for 15 years – as editorial director of the renowned trade magazine "sb", in the organisation and realisation of international architectural competitions with IOC and IPC, in trade fairs and conventions, as head of the "NRW Beratungsstelle Sportstätten" ("NRW Advice Centre for Sports Facilities") and as a lecturer at the German Sport University Cologne.
Dipl.-Ing. (engineering degree) Architect, TU Berlin
Longtime editorial head with "sb", an international journal for the architecture of sports
Training in web design, online marketing, etc.
International architectural competitions with IOC and IPC
Trade fair and congress organisation
Head of the "NRW Beratungsstelle Sportstätten" ("NRW Advice Centre for Sports Venues")
Lecturer at the German Sport University Cologne
Planning of the Prussian Stadium in Münster (for großmann engineers, Göttingen)
Replanning a football stadium in Berlin-Köpenick
Numerous publications, i.a. "From Round Leather to Soap Bubbles – The Development of Football and its Architecture"
Board member and youth coach at SV BW Weitmar 09
[et_pb_df_instagram_feed id="more_sports_media" num="12″ cols="6″ showheader="on" headercolor="#88b14b" width="80″ imagepadding="3″ followtext="Folgen Sie uns" _builder_version="3.21.4″][/et_pb_df_instagram_feed]