Colegio Nuestra Señora de Lourdes
Picado De Blas Arquitectos
This project has been carried out thanks to the Torrelodones municipality initiative which seeks to improve the current conditions of the most degraded public schools in the area by introducing a small architectural intervention network of new constructions.
This gives the opportunity to introduce ecological concepts in schools with very low cost.
In this case, a small pavilion was required for a sports activity next to the existing school.
Breaking up with the traditional concept of this type of spaces, which are usually very closed to the outside, a large window opened to east appears, offering a view of the sky.
The project approach is to set up the pavilion as a removable architectural piece, quickly erected, sustainable and innovative. We thought at this point in removable refrigeration panel self-supporting structure, a typical material used in the industry, which is lightness and has a high energy efficiency that facilitates its quick assembly and keeps safely the possibility of reuse in the future.
These panels have a 10 cm thickness, weighing the whole building less than a quarter of what would weight a traditional construction.
We understand as innovative this proposal, not only for the introduction of industrial panel systems, but also because of the acoustic absorption achieved in the interior space. The impact absorption on the ground was ensured by superimposing several special absorbent sheets under the pavement, while echoes and reverberations on the walls were counteracted by a 3D textile material specially designed for this project.
The wood used as the final floor finishing is an industrial oak recycled wood, which is made with the remains of other woods. This material will provide warmth and facilitates the indoor sports performance.
Client
Community of Torrelodones
Team
Rubén Picado Fernández, María José de Blas
Carlos Diaz-Monis, Jorge Li, Teresa Casbas, Sofía Fernández, Will Tooze
Author
PICADO-DE BLAS ARQUITECTOS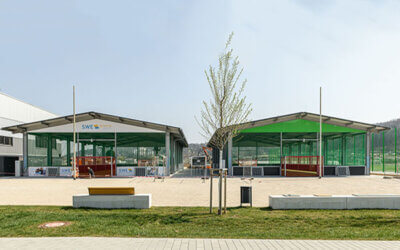 Open-air halls have a bright future.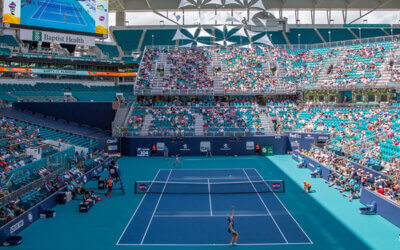 Sand courts are high-maintenance. But there are alternatives.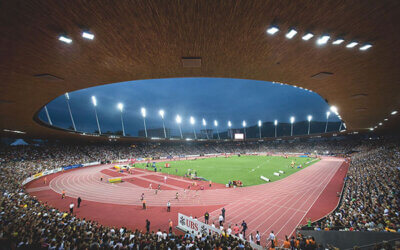 All about athletics running tracks