IBI Group Architects
HAVER Architectural Mesh
California's Bakersfield College was founded in 1931, and it is one of the oldest colleges of the United States in which teaching has been continuous. More than 20,000 students are being educated on the 62-hectar main campus in the northeast of Bakersfield.
The college had its 2,800-square-metre auditorium refurbished through a community bond programme.
IBI Group Architecture Planning was tasked with redesigning the entire site and turning it into a centre of performing arts. The work involved a redesign of the entrance, reception, and study rooms, as well as the 450 theatre seats.
HAVER Architectural Mesh was used for the shading.
The amphitheatre of Bakersfield College is obviously outside, with the stage being roofed. Shading constructions were required to guarantee an unobstructed view of the stage.
IBI Group therefore had to find a durable material for shading that would resist weather impact, guarantee maximum air circulation, and, of course, offer good sun protection.
From a design and functional point of view it soon became clear that the LARGO PLENUS 2027 stainless steel mesh would be the best solution for Bakersfield College. The HAVER architectural mesh achieves the desired visual shielding, offers efficient air circulation, and, with an open area of 25%, guarantees effective sun protection during performances at the amphitheatre. Furthermore, the wire mesh construction is made of durable, low-maintenance stainless steel that can easily be cleaned and maintained.
The stainless-steel mesh elements were produced especially for Bakersfield College. Each one of the twelve mesh panels features a fastening system consisting of a clamping edge, clevis screw, and a pressure spring, and each panel was laid via three to four deflections, so that the mesh does not frame the stage vertically but with a slight curvature.
Companies involved & Links

Address
BAKERSFIELD COLLEGE
Panorama Campus (Main)
1801 Panorama Drive
USA – Bakersfield, CA 93305

Photos
IBI Group Architecture Planning

Text
Ulrike Zornow
Haver & Boecker

Award
California CCFC 2015 Award of Honor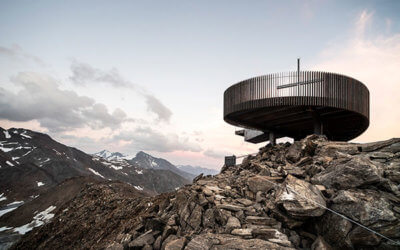 Creates a sensual experience in which time stands still.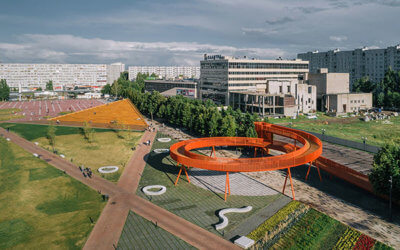 DROM brings new life to the city: Revitalization of urban heritage from the Soviet Union.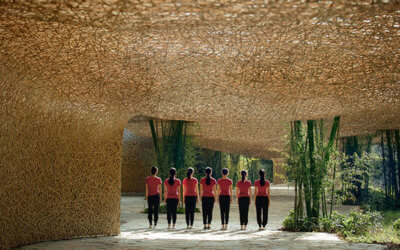 An incredible landscape becomes even more breathtaking. From IILab.