The Arkona beach hotel on Rügen really is something special. It is located right on the beach promenade of the beautiful Baltic Sea resort of Binz with its kilometres of bathing beaches. The holiday resort, which is much in demand, is known for its cultural diversity, magnificent spa architecture, chalk cliffs, the Colossus of Prora, its surrounding nature and the fine sandy beach.
Since Summer 2019, the hotel has been offering another spectacular option: the completely redesigned Arkona Sky Bar, which knows how to make use of ambience and atmosphere.
The Arkona Sky Bar stretches over an impressive 1,300 square metres of roof terrace. We opened up the area over the central staircase in the north-west and two external staircases on the opposite side. The air conditioning, storage and sanitary facilities are located in the centre.
The rest is well-zoned pleasure. There are seating areas, bar tables, deck chairs, beach chairs and beanbags: Everything is designed for feeling comfortable, relaxing and the impressive 360-degree panorama.
Even the flooring too is characteristic of the Arkona Sky Bar. The lush green of the artificial turf not only brings assertive colour to the roof, it is also ideal for areas like this: very pleasant for going barefoot, excellent for children's rough-and-tumble and completely insensitive to dirt or point loads.
The use of artificial turf in outdoor dining areas is not yet prevalent. The Arkona Sky Bar is a trailblazer here too.
A special feature, in fact a world first, is the tracks and paths between the various areas of the Arkona Sky Bar: They are made from brown-beige Melos EPDM mulch, yet it is visually indistinguishable from "real" bark mulch.
In terms of feel and maintenance, they have the advantage that they convey a pleasantly soft walking sensation – and they are extremely easy to maintain and keep clean.
The entire floor area – both artificial turf and EPDM mulch – originates from Melos. The installation was carried out in cooperation between Melos and the operator AwForge.
AwForge has many years of experience in catering, while Melos is a leading manufacturer of plastics for sports and leisure surfaces. Together they have a great sense of innovation – and also for tackling it and trying it out.
The result is a low maintenance, attractive outdoor area – a green oasis on the beach.
There is lots to see on Rügen, where a roof terrace like the Arkona Sky Bar is an ideal place to stay.
Melos not only transforms unused roof spaces, but also other areas into landscape experiences – for example playgrounds, schoolyards, hotels and catering projects. Good ideas, top-quality materials and processing expertise are the basis for successful projects with Melos.
Companies involved & Links
Operator
AwForge
Warburgweg 1a
D – 38126 Braunschweig
Photos
Awforge
Arkona Strandhotel
Flooring
Melos GmbH
Bismarckstrasse 4-10
D-49324 Melle
Opening
2019 (Arkora Sky Bar)
Grow-friendly architecture by Lava Architects.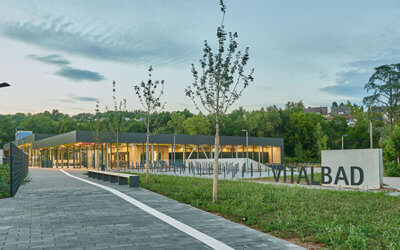 Reduce water surface area, increase attractiveness. By 4a Architects.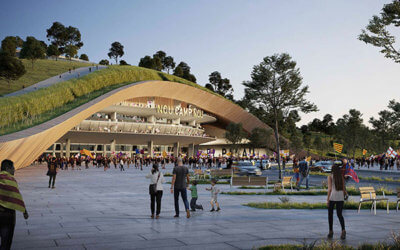 What to do on non-match days? And where to "park" the stadium?