Lebendig
Glass Mill Leisure Centre in London
Programm
Das Glass Mill Leisure Centre Lewisham umfasst ein 25 m-Wettkampfbecken mit acht Bahnen und Zuschauerplätzen, ein Lehrschwimmbecken, mobile Böden für beide Becken und einen Lift für Menschen mit Einschränkungen, der vollen Zugang zum Hauptbecken bietet. Es bietet auch Fitness- und Gesundheitsräume, Studios und die dazugehörigen Umkleideräume.
Die Außenfassade wurde mit 1.400 einzelnen Glasscheiben verkleidet, die in Zusammenarbeit mit dem Londoner Künstler Phil Coy entwickelt wurden.
Kommunikation
Das Projekt war Teil der Stadterneuerung von Lewisham. Es entstanden 760 neue Wohnungen, Geschäfte sowie soziale und gemeinschaftliche Einrichtungen wie vor allem das Glass Mill Leisure Centre. Das Centre befindet sich im Erdgeschoss des 27-geschossigen Apartmenthauses.
Das gesamte Gebäude ist ausgesprochen kommunikativ und steht in regem Austausch mit seiner Umgebung, nicht nur durch die Fassadengestaltung. Der hohe und freundliche Eingangsbereich mündet in raumhoch verglaste Aufenthaltsbereiche, von denen wiederum die Sportflächen erschlossen werden. Ein Restaurant und Terrassen bestärken den offenen Eindruck der Anlage.
1.400 farbige Glasscheiben
Die farbige Fassade des Glass Mill Leisure Centre wurde in Zusammenarbeit mit Phil Coy, einem Londoner Künstler, entworfen. Sie soll die Lebendigkeit widerspiegeln, die im gesamten Gebäude herrscht. Dahinter steckt raffinierte Technik: 1.400 farbige Glasscheiben, die von LEDs hinterleuchtet werden, bilden einen Wetterschutz, der über Fassadenmikrofone auf Außengeräusche reagiert.
Die Lichter pulsieren im Takt der Geräusche, denen sie folgen. Die Fassade bildet also in Licht und Farbe die Stimmung der Gemeinschaft und der Umgebung ab. Die Eingangsfassade wurde mit geätztem Glas und doppelter Vorhangfassade dezenter und transparenter gestaltet. Sie kommuniziert mit dem öffentlichen Bereich von Plaza und den angrenzenden Cornmill Gardens.
Ausgezeichnet
Das Glass Mill Leisure Centre ist ein Gebäude für die Gemeinschaft. Seine Architektur ist offen, integrativ und inklusiv. Es reagiert buchstäblich auf die Bedürfnisse und den Rhythmus seiner Besucher und seiner Umgebung. Bei aller Lebendigkeit bietet es doch auch Ruhe, die es zu erfahren und nicht zu sehen gilt.
Das Glass Mill Leisure Centre wurde mehrfach ausgezeichnet, unter anderem bei den London Planning Awards mit dem Mayor of London's Best Community Building.
Grundriss der Eingangsebene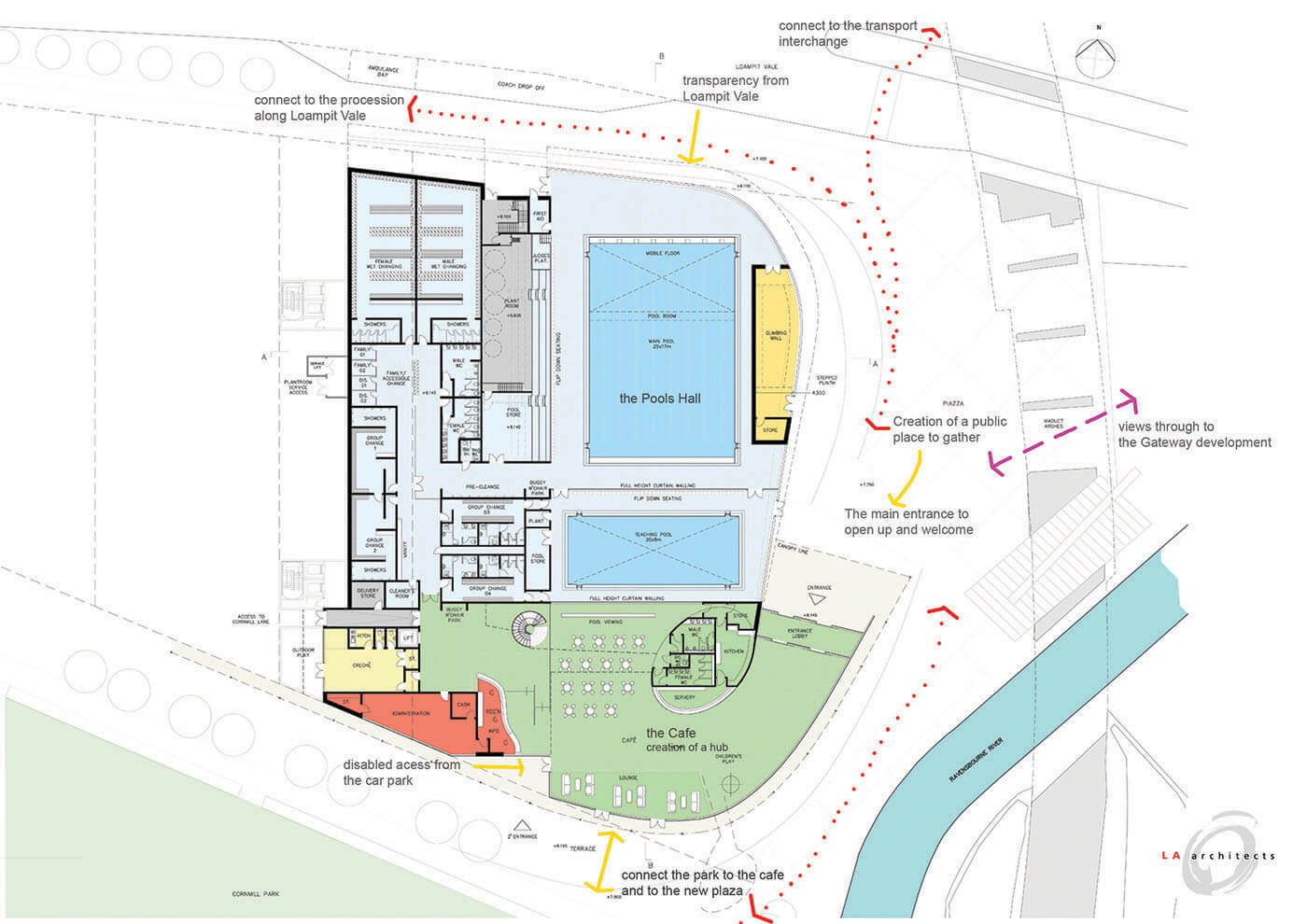 Die Tanz- und Fitnessstudios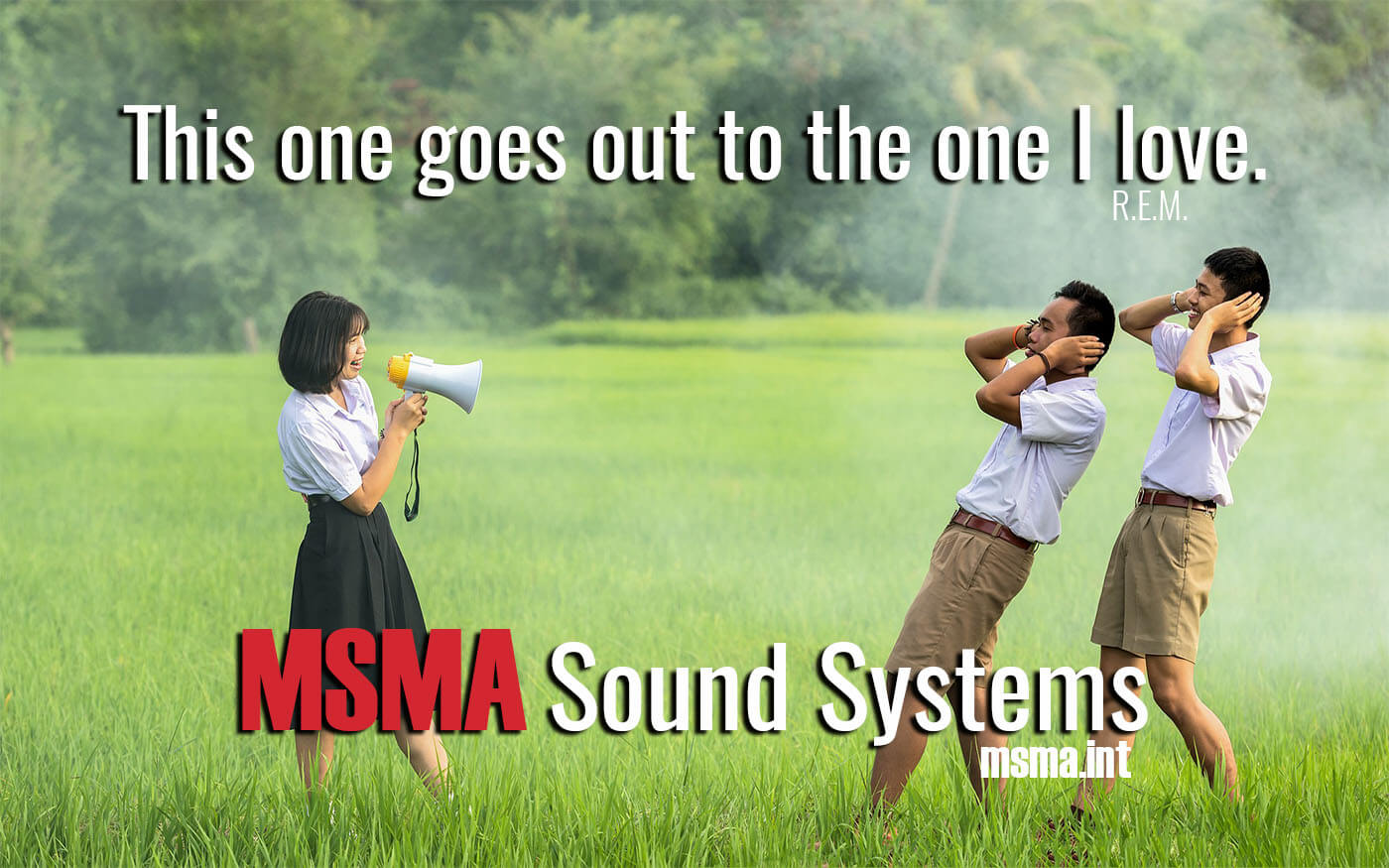 Johannes Bühlbecker
More Sports Media
Mayor of London's Best Community Building 2013/2014
in the London Planning Awards
Johannes Bühlbecker, Gründer von More Sports Media
Johannes Bühlbecker ist Architekt und hat unter anderem 15 Jahre lang für die Internationale Vereinigung Sport- und Freizeiteinrichtungen (IAKS) gearbeitet – als Redaktionsleiter der renommierten Fachzeitschrift "sb", in der Organisation und Durchführung internationaler Architekturwettbewerbe mit IOC und IPC, im Messe- und Kongresswesen, als Leiter der "NRW Beratungsstelle Sportstätten" und als Lehrbeauftragter an der Deutschen Sporthochschule Köln.
Dipl.-Ing. Architekt
Langjähriger Redaktionsleiter "sb", Internationale Fachzeitschrift für die Architektur des Sports
Fortbildungen im Bereich Web-Design, Online-Marketing usw.
Internationale Architekturwettbewerbe mit IOC und IPC
Messe- und Kongressorganisation
Leiter der "NRW Beratungsstelle Sportstätten"
Lehrbeauftragter an der Deutschen Sporthochschule Köln
Planung des Preußen-Stadions in Münster (für großmann ingenieure, Göttingen)
Neuplanung eines Fußballstadions in Berlin-Köpenick
Zahlreiche Publikationen, u.a. "Vom runden Leder zur Seifenblase – Die Entwicklung des Fußballs und seiner Architektur"
Vorstandsmitglied und Jugendtrainer beim SV BW Weitmar 09